United Provinces of America (Washington Shot at Murdering Town!)
Talk

14
History
Origins
See main article: American Revolt
Formation of the United Provinces
Following the eventual defeat of the Rebels in 1777, the British Government took steps to ensure that the colonies would not revolt again. The United Provinces of America were formed on April 16th, 1780, from the 13 colonies and the Districts (later Provinces) of Maine and Vermont.
The new nation was to be formed, autonomous of, but still subservient to, the British Parliament, whose authority was still required on the more important matters of state.
Second Revolt
See main article: Second American Rebellion
Expansion and Industrialism
Reform Era
Global Wars
Government and Politics
The executive is theoretically the monarch but the Governor-General holds most of the power. The President-General is always the leader of the majority party in the House of Commons. The Governor-General has been reduced to the eyes and ears of the monarch.
The judicial is the Judge's Council, which is composed by the Chief Justice from the supreme court of each province.
The legislative is the Parliament of America. It is bicameral. The lower, larger house is the House of Commons. The upper, smaller house is the House of Senators.
Political Parties
Major Parties
American Labour Party - left-wing - majority socialist party
Progressive Party of America - left-wing - formed from parts of the Liberal and Conservative Parties in 1809
American Liberal Party - centre
American Conservative Party - right-wing - Was formed as America's first political party.
Minor Parties
American People's Party - left wing - Radical Socialist, evolved out of extreme of American Labour Party
American Green Party - left-wing green
United Rationalist Party - centre-left - formed in 1836; has been a major party since the late 1840s; based on French Social-Rationalism principles
Parti Laurentien (Laurentien Party) - Catholic centre - want Lower Canada to have more autonomy
Christian Democratic Party - Protestant centre-right
Freedom Party - centre-right - libertarian in spirit
Original Members (1780)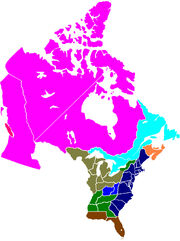 Connecticut
Delaware
Georgia
Maine
Maryland
Massachusetts
New Hampshire
New Jersey
New York
North Carolina
Pennsylvania
Rhode Island
South Carolina
Vermont
Virginia
Further Additions
Expansion Act (1804)
Transylvania (1804)
Vandalia (1804)
Incorporation Act (1808)
Cherokee
Chickasaw
Choctaw
Creek Confederation
Iroquois Confederation
Florida Act (1819)
East Florida
West Florida
Nova Scotia Act (1823)
Nova Scotia, along with St. John's Island (Prince Edward Island)
West Indies Act (1830)
Antilles (Lesser Antilles) - Anguilla, Antigua, Barbuda, Dominica, Grenada, Montserrat, Nevis, St. Kitts, St. Lucia, St Vincent
Bahamas
Jamaica
Trinidad and Tobago
Northwestern Act (1838)
Anishinaabe
Illinois Confederation
Menominee
Miami
Potawatomi
Shawnee
Wisconsin Confederation
Canada's Act (1845)
Newfoundland
Upper Canada
Lower Canada
British-North-America Act (1857)
Belize
District of Bermuda
Guiana
Miskito
Vancouver Island
Territories Act (1857)
Arctic Islands
Northwest Territory
Oregon Territory
Rupert's Land
| | | |
| --- | --- | --- |
| |   Members of the British Empire and Commonwealth   | |
Nations
Australia | Great Britain | Ireland | India | Nigeria | South Africa | Sierra Leone | United Provinces of America
Protectorates
Colonies
British Antarctic Territory | British Atlantic Territory | British Somaliland | Falkland Islands | Gambia