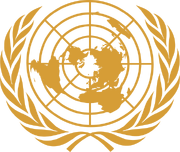 The
United Nations Peacekeeping Force in Kurdistan, Syria and Iraq
(
UNPFKSI
) is a United Nations peacekeeping force that was established under United Nations Security Council Resolution 2281 in 2016 to create a stable environment mainly against ISIL, predominantly in Kurdistan. It established 'Green Camps' where those under threat of persecution could seek refuge. The Resolution was passed on 10th April 2016. Preparations were made and on the 12th April units from around the world, lead by Scotland, landing from 26th April 2016. Whilst there are still large numbers of migrants, it has been hailed for helping cut down on the number of refugees being forced to move away from the countries.
Ad blocker interference detected!
Wikia is a free-to-use site that makes money from advertising. We have a modified experience for viewers using ad blockers

Wikia is not accessible if you've made further modifications. Remove the custom ad blocker rule(s) and the page will load as expected.