United Nations
1980 –

UN Member States
Headquarters
International Territory in London
Official languages
Arabic, Chinese, English, Deutsch, Italian, Russian, Spanish
Membership
57 Members
Leaders
- 2008 –
Secretary General
Norbert Lammert
The United Nations was established in 1980, the reconciliation age. The UN protects peace, mediates conflict, and unites all Nations.
Security Council
The UNSC consistes of the US, Germany, China, the UK, Italy. India and Brazil are the Third World members to be on the Security Council.
Conflict mediate by UN
In 1997, the Japan and Korea experienced a downturn in relations. Two countries fires across the Korean Sea. The UN mediated potential war, preventing the Japan-Korea War.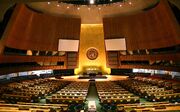 Ad blocker interference detected!
Wikia is a free-to-use site that makes money from advertising. We have a modified experience for viewers using ad blockers

Wikia is not accessible if you've made further modifications. Remove the custom ad blocker rule(s) and the page will load as expected.