Provinces Maritimes Units
United Maritime Provinces
Timeline: British Louisiana


Flag of the Maritimes

Capital
(and largest city)
Halifax
Language
English, French
Monarch
Prime Minister
Area
... km²
Population
... 
Independence
from Britain
  declared
1870
  recognized
1870
Currency
Maritime Dollar
The United Maritime Provinces is composed of the Royal Provinces of New Brunswick, Newfoundland, Nova Scotia, Prince Edward Island, and St. Pierre and Miquelon.
History
Having already enjoyed a great deal of autonomy, the United Maritime Provinces and Canada were granted full independence in 1870. The provinces gathered themselves into two federations.
Geography
The United Maritime Provinces lays in northeastern North America.
Limits
North: Atlantic Ocean and Canada. West: Canada. South: New England. East: Atlantic Ocean.
Political Divisions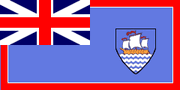 The United Maritime Provinces is composed by five Royal Provinces:
Ad blocker interference detected!
Wikia is a free-to-use site that makes money from advertising. We have a modified experience for viewers using ad blockers

Wikia is not accessible if you've made further modifications. Remove the custom ad blocker rule(s) and the page will load as expected.