‹ 2001  2010 ›
United Kingdom general election, 2005
All 659 seats in the House of Commons
330 seats needed for a majority
5 May 2005
Turnout
61.4%
First party
Second party
Third party
Leader
Tony Blair
Michael Howard
Charles Kennedy
Party
Labour
Conservative
Liberal Democrats
Leader's seat
Sedgefield
Folkestone and Hythe
Ross, Skye and Inverness West
Last election
413 seats, 42%
166 seats, 32.7%
52 seats, 18.8%
Seats before
411
166
54
Seats won
350
223
52
Seat change

▼

63

▲

57

▬

0
Popular vote
9,610,573
9,284,790
6,217,009
Percentage
35%
34.5%
22.5
Swing

▼

7%

▲

1.8%

▲

3.7%
Fourth party
Fifth party
Leader
Roger Knapman
Angus Robertson
Party
UKIP
Scottish National Party
Leader's seat
Candidate for Totnes (Lost)
Moray
Last election
0 seats, 1.5%
5 seats, 1.8%
Seats before
0
5
Seats won
0
4
Seat change

▬

0

▼

1
Popular vote
977,346
424,767
Percentage
3.6%
1.6%
Swing

▲

2.1%

▼

0.2%
[[Image:

|550px]]
Colours show the winning party in each constituency.
The United Kingdom general election of 2005 was held on Thursday, 5 May 2005 to elect 659 members to the British House of Commons. The Labour Party under Tony Blair won its third consecutive victory, but its majority now stood at 55 seats compared to the 160-seat majority it had previously held. It remains the last Labour victory in the UK.
The Labour campaign emphasised a strong economy, however Blair had suffered a decline in popularity even before the decision to send British troops to invade Iraq in 2003. The Conservative Party, led by Michael Howard since late 2003, campaigned on policies, such as immigration limits, improving poorly managed hospitals and reducing high crime rates, all under the slogan 'Are you thinking what we're thinking?'. The Liberal Democrats, led by Charles Kennedy, were opposed to the Iraq War given there had been no second UN resolution, and collected votes from disenchanted Labour voters.
Overview
The governing Labour Party, led by Tony Blair, was looking to secure a third consecutive term in office and to retain a large majority. The Conservative Party was seeking to regain seats lost to both Labour and the Liberal Democrats since the 1992 general election, and move from being the Official Opposition into government. The Liberal Democrats hoped to make gains from both main parties, but especially the Conservative Party, with a "decapitation" strategy targeting members of the Shadow Cabinet. The Lib Dems had also wished to become the governing party, but more realistically hoped of making enough gains to become the Official Opposition and/or play a major part in a parliament led by a minority Labour or Conservative government. In Northern Ireland the Democratic Unionist Party sought to make further gains over the Ulster Unionist Party in unionist politics, and Sinn Féin hoped to overtake the Social Democratic and Labour Party in nationalist politics. (Note that Sinn Féin MPs do not take their seats in the House of Commons—they refuse to swear an oath of allegiance to the Queen as required). The pro-independence Scottish National Party and Plaid Cymru (Party of Wales) stood candidates in every constituency in Scotland and Wales respectively.
Many seats were contested by other parties, including several parties without incumbents in the House of Commons. Parties that were not represented at Westminster, but had seats in the devolved assemblies and European Parliament included the Alliance Party of Northern Ireland, the United Kingdom Independence Party, the Green Party of England and Wales, the Scottish Green Party, and the Scottish Socialist Party. The Health Concern party stood again as well.
All parties campaigned through such tools as party manifestos, party political broadcasts and touring the country in what are commonly referred to as battle buses.
Local elections in parts of England and in Northern Ireland were held on the same day. The polls were open for fifteen hours, from 07:00 to 22:00 BST (UTC+1). The election came just over three weeks after the dissolution of Parliament on 11 April by Queen Elizabeth II, at the request of the Prime Minister, Tony Blair.
Results
Polling stations opened at 7:00 and closed at 22:00 and the count was completed in the afternoon of the 6th of May.
Results of the United Kingdom general election, May 5 2005

Party
Leader
Leader's seat
Seats
Votes
No.
%
±
No.
%
±
 
Labour Party
Tony Blair
Sedgefield
351
53.26%

▼

56
9,610,573
35.4%

▼

6.6%
 
Conservative
Michael Howard
Folkstone and Hythe
223
33.84%

▲

56
9,284,790
34.2%

▲

1.5%
 
Liberal Democrats
Charles Kennedy
Ross, Skye and Inverness West
57
8.65%

▬

0
6,217,009
22.9%

▲

4.1%
 
UKIP
Roger Knapman
Candidate for Totnes (Lost)
0
0%

▬

0
977,346
3.6%

▲

2.1%
 
Scottish National
Angus Robertson
Moray
5
0.76%

▼

1
424,767
1.6%

▼

0.2%
 
Green
Caroline Lucas
'' Did Not Stand ''
0
0%

▬

0
380,079
1.4%

▲

0.8
 
Plaid Cymru
Elfyn Lwyd
Meirionnydd Nant Conwy
3
0.46%

▲

1
217,188
0.8%

▬

0
 
Speaker (Michael Martin)
Glasgow Springburn
1
0.15%

▬

0
14,568
0.054%

▬

0
Total (Turnout: 61.4%)
659
100%

▬

0
27,148,510
100%
-
↓
357
222
52
13
8
5
4
1
Labour
Conservatives
Lib Dems
Others
DUP
PC
SNP
Speaker
Scotland
Labour held onto most of the seats it had in the 2001 election despite losing Ayr and Edinburgh Pentlands to Malcolm Rifkind of the Conservatives.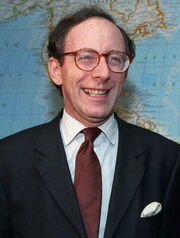 The Conservatives, despite coming last, performed well overall gaining 3 seats (Ayr and Edinburgh Pentlands from Labour and Perth from the SNP) marking a comeback in Scotland and therefore made themselves less toxic. The Liberal Democrats came 2nd, winning Aberdeen South from Labour and reduced Labour's majority in Inverness East, Nairn and Lochaber making it one of the most marginal seat in this election. Their increase in vote was due to their Anti-Iraq War stance. The SNP performed the worst overall losing Perth to the Conservatives and not succeeding in their target seats, despite coming 3rd in the whole of Scotland with 18.2% of the vote.
Exit Poll
EXIT POLL

Party
No of Seats
Differences
Labour
360
Inverness East, Nairn and Lochaber (Liberal Democrat GAIN)

Stroud, Selby and Ayr (Labour HOLD)


Conservative
219
Stroud, Selby and Ayr (Labour HOLD)
Liberal Democrats
53
Inverness East, Nairn and Lochaber (Liberal Democrat GAIN)
Target Seats
These are the constituencies which were marginal in the last election which were targetted in this election
Labour
Target Seats of the Labour Party

Seat
Winning Party at 2001 Election
Swing needed
Winning Party at 2005 Election
Boston and Skegness
Conservative
0.64%
Conservative
Beverley & Holderness
Conservative
0.84%
Conservative
Bedfordshire South West
Conseravtive
0.885%
Conservative
Basingstoke
Conservative
0.915%
Conservative
Castle Point
Conservative
1.24%
Conservative
Upminster
Conservative
1.835%
Conservative
Canterbury
Conservative
2.259%
Conservative
Conservatives
Target Seats of the Conservative Party

Target Number
Seat
Winning Party at 2001 Election
Swing needed
Winning Party at 2005 Election
1
Cheadle
Liberal Democrats
0.04%
Liberal Democrats
2
Perth
SNP
0.065%
Conservative (GAIN)
3
Dorset South
Labour
0.17%
Labour
4
Braintree
Labour
0.355%
Conservative (GAIN)
5
Monmouth
Labour
0.46%
Conservative (GAIN)
6
North Norfolk
Liberal Democrats
0.43%
Liberal Democrats
7
Mid Dorset & Poole North
Liberal Democrats
0.44%
Liberal Democrats
8
Lancaster & Wyre
Labour
0.46%
Conservative (GAIN)
9
Guildford
Liberal Democrats
0.56%
Conservative (GAIN)
10
Kettering
Labour
0.62%
Conservative (GAIN)
11
Somerton & Frome
Liberal Democrats
0.635%
Liberal Democrats
12
Northampton South
Labour
0.865
Conservative (GAIN)
13
Brecon & Radnorshire
Liberal Democrats
1%
Liberal Democrats
14
Devon West and Torridge
Liberal Democrats
1.07%
Conservative (GAIN)
15
Hereford
Liberal Democrats
1.085%
Liberal Democrats
16
Welwyn Hatfield
Labour
1.395%
Conservative (GAIN)
17
Shipley
Labour
1.55%
Conservative (GAIN)
18
Clwyd West
Labour
1.66%
Conservative (GAIN)
19
Bexleyheath & Crayford
Labour
1.825%
Conservative (GAIN)
20
Ludlow
Liberal Democrats
1.89%
Conservative (GAIN)
21
Milton Keynes North East
Labour
1.99%
Conservative (GAIN)
22
Hornchurch
Labour
2.085%
Conservative (GAIN)
23
Selby
Labour
2.125%
Conservative (GAIN)
24
Edinburgh Pentlands
Labour
2.235%
Conservative (GAIN)
25
Hammersmith & Fulham
Labour
2.255%
Conservative (GAIN)
26
Thanet South
Labour
2.27%
Conservative (GAIN)
27
Forest of Dean
Labour
2.295%
Conservative (GAIN)
28
Wellingborough
Labour
2.31%
Conservative (GAIN)
29
Newbury
Liberal Democrats
2.375%
Conservative (GAIN)
30
Romsey
Liberal Democrats
2.445%
Conservative (GAIN)
31
Teignbridge
Liberal Democrats
2.54%
Liberal Democrats
32
Ilford North
Labour
2.63%.
Conservative (GAIN)
33
Rugby & Kenilworth
Labour
2.675%
Conservative (GAIN)
34
Gillingham
Labour
2.69%
​Conservative (GAIN)
35
Harwich
Labour
2.7%
Conservative (GAIN)
36
Enfield North
Labour
3.005%
Labour
37
Devon North
Liberal Democrats
3.03%
Liberal Democrats
38
Eastleigh
Liberal Democrats
3.215%
Conservative (GAIN)
39
Calder Valley
Labour
3.26%
Labour
40
Ayr
Labour
3.3%
Conservative (GAIN)
41
Redditch
Labour
3.355%
Labour
42
Peterborough
Labour
3.585%
Conservative (GAIN)
43
Shrewsbury & Atcham
Labour
3.585%
Conservative (GAIN)
44
Moray
SNP
3.6%
SNP
45
Southport
Liberal Democrats
3.655%
Liberal Democrats
46
Dartford
Labour
3.7%
Conservative (GAIN)