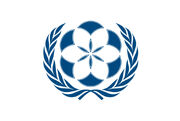 United Federation of Nations is an intergovernmental organisation created in 1945 to promote international co-operation. The organisation was created following the terror Napoleon II's war to prevent another such conflict. At its founding, the UFN had five member states and there are now 31. The UFN Headquarter resides in international territory in Berlin, with further main offices in Geneva, Narubi and Vienna. The organisation is financed by assessed and voluntary contributions from its member states. Its objectives include maintaining international peace and security, promoting human rights, fostering social and economic development, protecting the environment, and providing humanitarian aid in cases of famine, natural disaster, and armed conflict.
History
Member States
Ad blocker interference detected!
Wikia is a free-to-use site that makes money from advertising. We have a modified experience for viewers using ad blockers

Wikia is not accessible if you've made further modifications. Remove the custom ad blocker rule(s) and the page will load as expected.