Union of Soviet Socialist Republics
Timeline: Space Race Didn't End
OTL equivalent: Same with Off-world Colonies

Flag
Coat of Arms

Location of USSR

Capital
Moscow
Largest city
Moscow
Other cities
Stalingrad

Leningrad
The Union of Soviet Socialist Republics abbreviated to USSR or the Soviet Union is a constitutionally socialist nation which was founded in 1922, it is ruled as a Communist single party state. It is a union of 15 sub-national Soviet Republics and several space Soviets and orbital autonomous socialist zones. In practice, the Soviet Union was highly centralized until recent reforms. The largest ethnic group, the Russians, have political, cultural and economic control over the Union. However, an increasing amount of ethnic minorities are seeking greater say in their republics. The Soviet Union is the largest nation by area and the fourth largest by population.
History
Government
The current leader of the Soviet Union is Vladimir Vladimirovich Putin.
Economy
Foreign policy and military
The Soviet Union is one of the most important nations in the world and is the leader of the Eastern Bloc nations which are centered around the Eastern European nation.
Science and Technology

Demographics
Culture and Lifestyle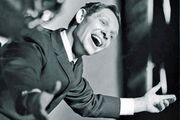 This Space Race Didn't End related article is a stub. You can help by expanding it.