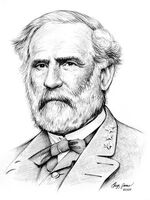 1st July, 1868
On this day The New York Herald observed that the Democrats had to name a soldier to defeat General Grant, the Republican choice, putting forward the name of his greatest Civil War adversary, the Confederate General Robert E. Lee:
"But if the Democratic Committee must nominate a soldier - if it must have a name identified with the glories of the war - we will recommend a candidate for its favors. Let it nominate General R. E. Lee. Let it boldly take over the best of all its soldiers, making no palaver or apology. He is a better soldier than any of those they have thought upon and a greater man. He is one in whom the only genius of this nation finds its fullest development.
Here the inequality will be in favor of the Democrats for this soldier, with a handful of men whom he had molded into an army, baffled our greater Northern armies for four years; and when opposed by Grant was only worn down by that solid strategy of stupidity that accomplishes its strategy by mere weight. With one quarter the men Grant had this soldier fought magnificently across the territory of his native State, and fought his army to a stump.
There never was such an army or such a campaign, or such a General for illustrating the military genius and possibilities of our people; and this General is the best of all for a Democratic candidate. It is certain that with half as many men as Grant he would have beaten him from the field in Virginia, and he affords the best promise of any soldier for beating him again".
After Appomattox, Lee had faced indictment for treason. But he had won widespread admiration in the North by swearing renewed allegiance to the United States an act which brought tens of thousands of his former soldiers peaceably back into the Union.
As the President of Washington College at Lexington, he had established a modern University which set "an example of submission to authority". It was an example that Lee might set as a key unifying leadership figure in post-war America:
"True patriotism sometimes requires of men to act exactly contrary, at one period, to that which it does at another, and the motive which impels them the desire to do right is precisely the same".
Ad blocker interference detected!
Wikia is a free-to-use site that makes money from advertising. We have a modified experience for viewers using ad blockers

Wikia is not accessible if you've made further modifications. Remove the custom ad blocker rule(s) and the page will load as expected.