Ad blocker interference detected!
Wikia is a free-to-use site that makes money from advertising. We have a modified experience for viewers using ad blockers

Wikia is not accessible if you've made further modifications. Remove the custom ad blocker rule(s) and the page will load as expected.
A list of States which are bound together to create the United States of America.There are currently 33 states.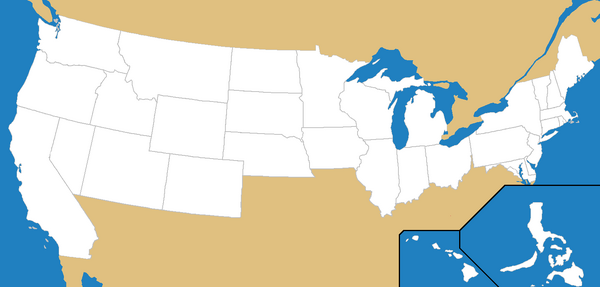 | | | | | | | |
| --- | --- | --- | --- | --- | --- | --- |
| Name | USPS | Flag | Date | Population | Capital | Most Populous city |
| California | CA | | September 9, 1850 | 36,961,664 | Sacramento | Los Angeles |
| Colorado | CO | 42px | August 1, 1876 | 5,024,748 | Denver | Denver |
| Columbia | CL | | July 4th, 1875 | 2,492,291 | Washington City | Washington City |
| Connecticut | CT | | Jan. 9, 1788 | 3,518,288 | Hartford | Bridgeport |
| Delaware | DE | | Dec. 7, 1787 | 885,122 | Dover | Wilmington |
| Hawaii | HI | | August 21, 1959 | 1,295,178 | Honolulu | Honolulu |
| Idaho | ID | | July 3, 1890 | 1,545,801 | Boise | Boise |
| Illinois | IL | | December 3, 1818 | 12,910,409 | Springfield | Chicago |
| Indiana | IN | | December 11, 1816 | 6,423,113 | Indianapolis | Indianapolis |
| Iowa | IO | | December 28, 1846 | 3,007,856 | Des Moines | Des Moines |
| Maine | ME | | March 15, 1820 | 1,318,301 | Augusta | Portland |
| Maryland | MD | | April 28, 1788 | 3,299,478 | Annapolis | Baltimore |
| Massachusetts | MA | | February 6, 1788 | 6,593,587 | Boston | Boston |
| Michigan | MI | | January 26, 1837 | 9,969,727 | Lansing | Detroit |
| Minnesota | MN | | May 11, 1858 | 5,266,214 | Saint Paul | Minneapolis |
| Montana | MO | | November 8, 1889 | 974,989 | Helena | Billings |
| Nebraska | NE | | March 1, 1867 | 1,796,619 | McClellan | Omaha |
| Nevada | NV | | October 31, 1864 | 2,095,464 | Carson City | Carson City |
| New Hampshire | NH | | June 21, 1788 | 1,324,575 | Concord | Manchester |
| New Jersey | NJ | | December 18, 1787 | 8,707,739 | Trenton | Newark |
| New York | NY | | July 26, 1788 | 19,541,453 | Albany | New York City |
| North Dakota | ND | | November 2, 1889 | 646,844 | Bismark | Fargo |
| Ohio | OH | | March 1, 1803 | 11,542,645 | Columbus | Columbus |
| Oregon | OR | | February 14, 1859 | 3,825,657 | Salem | Portland |
| Pennsylvania | PN | | December 12, 1787 | 12,604,767 | Harrisburg | Philadelphia |
| Philippines | PH | | March 24, 1934 | 91,983,000 | Manila | Quezon City |
| Rhode Island | RI | | May 29, 1790 | 1,053,209 | Providence | Providence |
| South Dakota | SD | | November 2, 1889 | 812,383 | Pierre | Sioux Falls |
| Utah | UT | | January 4, 1896 | 2,784,572 | Salt Lake City | Salt Lake City |
| Vermont | VT | | March 4, 1791 | 621,760 | Montpelier | Burlington |
| Washington | WA | | November 11, 1889 | 6,664,195 | Olympia | Seattle |
| Wisconsin | WI | | May 29, 1848 | 5,654,774 | Madison | Milwaukee |
| Wyoming | WY | | July 10, 1890 | 544,270 | Cheyenne | Cheyenne |