Ad blocker interference detected!
Wikia is a free-to-use site that makes money from advertising. We have a modified experience for viewers using ad blockers

Wikia is not accessible if you've made further modifications. Remove the custom ad blocker rule(s) and the page will load as expected.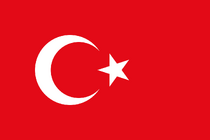 Turkey (Turkish: Türkiye), officially the Republic of Turkey (Turkish: Türkiye Cumhuriyeti), is a contiguous transcontinental parliamentary republic largely located in Western Asia with the smaller portion of Eastern Thrace in Southeastern Europe. The Mediterranean Sea is to the south; the Aegean Sea to the west; and the Black Sea to the north. The Sea of Marmara, the Bosphorus and the Dardanelles (which together form the Turkish Straits) demarcate the boundary between Thrace and Anatolia; they also separate Europe and Asia. Turkey's location at the crossroads of Europe and Asia makes it a country of significant geostrategic importance.
Arab Winter

Pages
Africa
Arabian Penninsula
Levant and West Asia

Israel

♦

Turkey

♦

Azerbaijan

♦

Syria

♦

PKK

♦

Iran

South and Central Asia
Organizations and Terrorist Groups