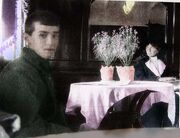 Alexei Nikolaevich Romanov, was the last Tsar of Russia. Being the youngest and only son of Nicholas II and  Empress Alexandra. Born with hemophilia, the young Alexei struggled with his disease a lifetime, but with help from Grigori Rasputin his disease was controlled.
Due his hemophilia, he couldn't join the Army Forces as a young adult, this frustrated the then Tsarevich but helped him to form his political and social character, developing an ability in these fields.
He ascended the throne in 1929 when his father died of pneumonia and was Tsar until the abolition of the monarchy in 1939 just before World War II.
Alexei had three children with his wife Ella I of Russia (No Revolutionary Russia): the Tsarevich Andrei and Duchesses Valentina and Ekaterina. Alexei finally died in 1976 in Paris after a fatal hemophilia attack.
Tsarevich (1904-1929)
Childhood
Alexei was born in August 12th 1904 being the youngest child and only son of Tsar Nicholas II and Tsarina Alexandra Fiodorovna. He was joy and pride of his parents but shortly after he was born, the young Tsarevich was diagnosed with hemophilia. This was something that defined him from a very beginning, having a childhood full of luxuries but not being able to proceed as a normal kid. He was often overprotected by his parents and was even assigned two sailor nannies to keep safe because every minimum wound was an ordeal for his family.
As a child he almost died multiple times due his illness but with help from Grigori Rasputin, Alexei always managed to heal. Rasputin said that if Alexei passed age 18 he would be "healed" (Controlled), something that had not many probabilities of happening, but ended up surprising his family, which made him want to get into the armed forces.
Teenage years and early Adulthood
Sadly, this was something he never could do, due his suffering (although this was less common and almost invisible). This frustrated him, but it helped him to form his character in the Economic and Social fields, that would make him an incredible reasoner ready for becoming Tsar.
Alexei would often spent his day reading and studying Arithmetic, History and accompanying his father observing and understanding the national issues.
Marriage to Ella Fargatovna
Becoming closer to the national issues and taking voice into them alongside with Nicholas, made him be involved with his father in the Commercial Crusade of 1927 (also known as "The Great Crusade") where he met Ella Fargatovna Babkina, daughter of a magnate from Gaika Company. The business issues that made them co-exist in the beginning were (not for much) the only connection between them, because a strong relationship emerged from them. According to close people to the families, the Tsarevich got pinned on Ella after just a few meetings with the Babkin Family.
A few months after the crusade was over, Ella and Alexei started a solid and strong romantic relationship that would lead them to marriage in 1928.
Accession to the throne: Tsar Alexei II
In  mid-1928, the Tsar Nicholas II fell ill with pneumonia, this was a tough time for the Romanov Family and especially for Alexandra, who knew his beloved husband wouldn't heal. Alexandra took command in the nation at the time that the Tsar was ill, Nicholas  finally died in early 1929 making Alexei ascend to the throne in the same year.
He was coronated with his wife at the Cathedral of St. Peter and St. Paul two months after the Tsar's death. Adopting the name of Alexei II.

As a monarch, he showed a strong attitude keeping the economical growth of the country, he also gave the Parliament more governmental authority and showing more maturity than his father did.
Children and Family
Alexei (Or called by his family and close friends Lyosha) married Ella Babkina in 1928 and they had their first son on September 1st 1930, the Tsarevich Andrei came to the world healthy, fortunately not inheriting his father's hemophilia.  On 1931 his first daughter was born: Duchess Valentina and finally Ekaterina in 1933.
Monarchy abolition: The end of the Royal Russian and the Romanovs
In 1938, revolutionary movements started to emerge and the constant threats of a civil war and a second WW coming were only advisement for the Tsar, because in early 1939 he was the target of an assassination attempt while emerging from a Parliamentary session in Tosno. Shortly after, the Tsarina was almost attacked while serving as a nurse in the Army Hospital, this attempt was foiled by the Royal Guards that were accompanying her.
The  assassination threats began to grow as much as the imminent possibility of civil war and World War II coming, this was just enough for the Tsar to decide to send his children and family to England, but with both wars coming, he decided to abdicate on his sister Olga, something that never happened, due the parliament's choice of ending the monarchy and installing a diplomatic provisional government. This would help to unify the nation when the WWII would arrive. This provisional government  was in the hands of Olga, but this wouldn't last too long.
Exile
After being forced to abdicate, Alexei and his family were exiled to Germany according to official statements. The real whereabouts of the last ruling Romanovs were not revealed until years after the war ending. The real whereabouts was Paris.
Death
Alexei lived a normal life during his last years, under the name of Alexander Mirren, his incredible health and apparent recovery from Hemophilia during his youth, finally  disappeared on his last years; he finally died in 1976 after complications during an Hemophilia attack. His remains were returned to Russia long after the fall of the Soviet Union along with the Tsarina's.
Tsar Alexei II
Secular name
Alexei Nikolayevich Romanov
Born
August 12th 1904
Death
November 29th 1976
Spouse
Issue

Tsarevich Andrei Alekseyevich Romanov

Tsarevna/ Grand Duchess Valentina Alekseyeva Romanova

Tsarevna/ Grand Duchess Ekaterina Alekseyeva Romanova
Ad blocker interference detected!
Wikia is a free-to-use site that makes money from advertising. We have a modified experience for viewers using ad blockers

Wikia is not accessible if you've made further modifications. Remove the custom ad blocker rule(s) and the page will load as expected.