Trust Territory of the Pacific Islands (The Era of Relative Peace)
Add New Page
Talk

0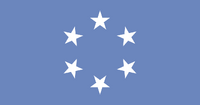 The Trust Territory of the Pacific Islands (TTPI) was a United Nations trust territory in Micronesia (western Pacific) administered by the United States from 1947 to 1986.
History
Pre-World War III
Spain initially claimed the islands as part of their Spanish East Indies, comprising the islands of what is now the Philippines and the Caroline Islands. After the defeat of the Spanish during the Spanish-American War, Guam and the Philippines were ceded to the United States while Germany took a claim on the islands. In World War I, Japan invaded the Caroline islands and subsequently captured it from the Germans. The League of Nations placed the islands under the South Pacific Mandate. The Empire of Japan would continue to control the islands before being invaded by the United States during World War II.
After the war, the United States administered the islands at the behest of the United Nations on July 18, 1947 pursuant to Security Council Resolution 21. Article 83 of the UN Charter provided that, as such, its formal status as a UN trust territory could be terminated only by the Security Council, and not by the General Assembly as with other trust territories. The United States Navy controlled the TTPI from a headquarters in Guam until 1951, when the United States Department of the Interior took over control, administering the territory from a base in Saipan, Northern Mariana Islands.
On October 21, 1986, the United States ended its administration of the Marshall Islands District. The termination of U.S. administration of the Chuuk, Yap, Kosrae, Pohnpei, and the Mariana Islands districts of the TTPI soon followed on November 3, 1986 in which the Federated States of Micronesia became a sovereign state. The next day, the Mariana Islands became a commonwealth in political union with the United States.
Prior to World War III, only Palau was the last Trust Territory that was not yet independent, although it did sign an agreement of CFA with the United States in 1982. World War III delayed this from happening.
World War III
The former trust territories and Palau were thought to be not a concern of the Soviet Union or China, since they held little strategic importance. The responsibility of defense of these islands fell under the United States. Upon China's entry to the war, troops and ships from the U.S., Australia, and the New Zealand were deployed and often patrolled the waters surrounding the islands. In particular, Chinese Naval forces launch attacks on Guam and Northern Mariana Islands, followed by a limited invasion force. These invasion forces were eventually repelled from the islands as the tide turned for they never did fully take control. The other islands were untouched and unaffected.
Independence of Palau
After the war, Palau voted to be independent on May 16, 1995. The Compact of Free Trade Agreement with the United States immediately took effect.
Successor States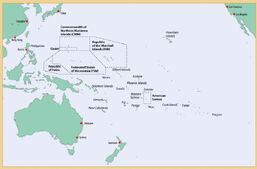 Sovereign States
U.S. Territory