Ad blocker interference detected!
Wikia is a free-to-use site that makes money from advertising. We have a modified experience for viewers using ad blockers

Wikia is not accessible if you've made further modifications. Remove the custom ad blocker rule(s) and the page will load as expected.
True Mongolia, formally known as the Republic of Inner Mongolia, is a state that claims control over all of former Mongolia and Inner Mongolia. However, its claims are not recognized by the rest of the world, however.
Republic of Inner Mongolia
共和国内蒙古
Timeline: Doomsday:1983
OTL equivalent: Inner Mongolia (province)

| | |
| --- | --- |
| | |
| Flag | Coat of Arms |

Motto
蒙古生活! (Mandarin)

Anthem
"Монгол улсын төрийн дуулал"
Capital
Hohhot
Largest city
Chifeng
Language
  official
 
Mandarin
  others
Mongolian, English
Ethnic Group
79% Han, 17% Mongol, 2% Manchu, .9% Hui, .3% Daur
Government
Democratic
  legislature
State Great Khural
President
Wang Jun
Vice president
Bagatur
Area
1,183,000 km2
Population
24,706,321 
Independence
from People's Republic of China
  declared
1983
  recognized
1983
Currency
Chinese Yuan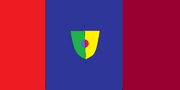 History
Politics
Economy
Geography
Religion