The Treaty of the Adennes was a treaty of peace between the Last Coalition and the French Empire.
Territorial changes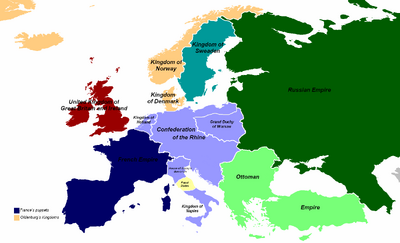 France
annexed
Spain
,
Portugal
,
Corsica
,
Sardinia
, and
the french-speaker Netherlands
. The treaty recognized the right of the
Emperor
Napoleón I
to conquer Switzerland.
The Grand Duchy of Warsaw, the Confederation of the Rhine, Holland, the Principalities of Savoy and the Kingdom of Naples was recognised. The Papal States also became an independent nation.
Denmark and Norway both separated in two kingdoms.