The Treaty of Weimar is a document which details the selling of land of Bremen, controlled by the UNC, to the nations of Hesse and Hamburg.
Terms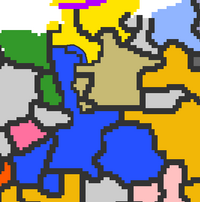 Hesse will receive lands in Western Bremen, including an enclave north of those lands, with access to the sea.
Hamburg will receive lands in South Eastern Bremen.
Hamburg will discount trade purchases by the UNC.
The UNC will allow Hesse to use a port-city in Holstein as a trade port.
Hesse and Hamburg will pay the UNC accordingly on how much land they have bought.
The UNC will discount Hessian trade.
Signatures
Ludwig I, Duke of Hesse, Nassau, Frankfurt, and Thuringia Blocky858 (talk) 22:32, March 13, 2014 (UTC)
William I, Duke of Hamburg You want me to sign this? I'm afraid I can't do that
Sverker I, King of Sweden, Denmark, and Norway CrimsonAssassin- I have special eyes 01:21, March 14, 2014 (UTC)