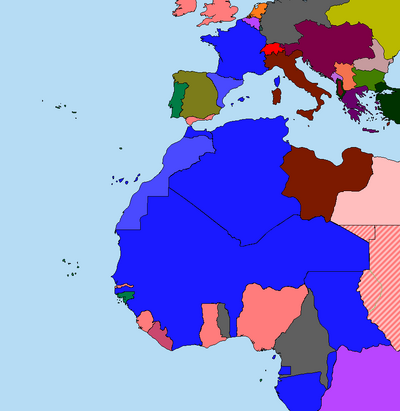 The
Treaty of Le Havre
is a binding treaty between Spain and France that ended the Franco-Spanish War of 1916. The results of the treaty were considered to be one of the increasing factors of tension that brought the world closer to the brink of destruction.
The Treaty was signed in Le Havre, Normandy, France on April 10, 1917 by France and Britain. Spain refused to sign the treaty, and even publicly burned the copy sent to Madrid and portraying France in an unflattering light.
The Treaty of Versailles made this treaty null and void.
Terms
Spain shall cede the following lands to France:

Morocco
Spanish Sahara
Spanish Equatorial Guinea
The Balearic Islands

France shall organize the following states

French Morocco
French Sahara
Autonomous Region of the Iles Baleares

Spain shall cede the following lands to Britain:
Aragon and Navarra shall be united into a Political Union with the Republic of France
Spain shall recognize all territorial changes as legitimate, binding, and final
All hostilities between France, Britain, and Spain shall cease
Signatures
Ad blocker interference detected!
Wikia is a free-to-use site that makes money from advertising. We have a modified experience for viewers using ad blockers

Wikia is not accessible if you've made further modifications. Remove the custom ad blocker rule(s) and the page will load as expected.