The transcontinental railroad is a proposed project by the the Commonwealth of Borealia. It is intended to connect the major cities of Borealia with cities and settlements of the Algonquian Sachemate and the Remian Republic.
Map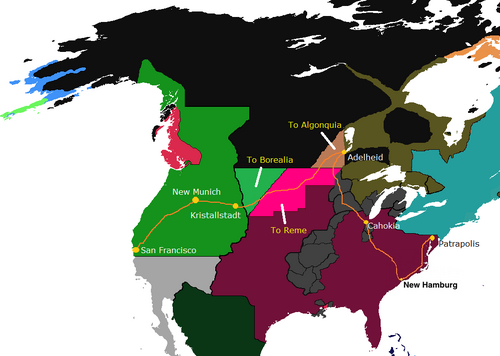 Projected Benefits
Accelerate expansion within the native states intersecting the railroad.
Expand the influence of these states within part of the unexplored (black) region
Mutually improve the economies of all three states by leaps and bounds
Discussion on the Railroad
The Kingdom of Hamburg expresses interest in a main line extending to the city of New Hamburg, one of the largest ports on the east coast. Georg von Cuxhaven, Diplomat of His Majesty I am that guy (talk)
Just as an outside observor, Neolaios or whatever is in the wrong spot. That city is in Florida if I recall correctly, and the capital city of Reme, also named Reme, should be in its place. Also, for future maps, Cahokia isn't in OTL Chicago like Sat says it is. A quick search on wikipedia should reveal its location. 
"This is not your grave but you are welcome in it." 18:16, April 19, 2015 (UTC)
Here is the Reman proposal for the railroad. (Sorry aout the image qualit, ive bee in a rush and wentith th quickest way to create it. Saturn120 21:47, April 19, 2015 (UTC)
A compromise version has been added to replace the current map Nathan (talk)
Cahokia is near St. Louis, not in OTL Chicago. It's also interesting that this railroad crosses through lands not owned by any of the above nations, and goes a very indirect route. Probably should have two routes anyway, one through say, OTL Texas. Tr0llis (talk) 03:19, April 20, 2015 (UTC)
I plan to extend the railroad through Texas. It'll be a seprate root, so it won't intervene with the current roots. As for Cahokia, I just was too lasy to think of a name. Thought it was there. I'll name OTL Chicago when I think of a name. Saturn120 17:34, April 20, 2015 (UTC)
I highly doubt you'll be able to build a railroad through disorganized territory. SkyGreen24 18:04, April 20, 2015 (UTC)
It won't be disorganized by time i'm building through it, Sky. Saturn120 18:47, April 20, 2015 (UTC)
Signatures
Habel Sterns, General President of the Curia Borealia Nathan1123 (talk) 02:25, April 20, 2015 (UTC)
Justinian Anzolatous, President and Military Commander of the Reman Republic: Saturn120 17:12, April 20, 2015 (UTC)
Second Line
Borealia Proposes to Algonquia to add a second railroad connecting New Vienna to the rest of the network.
Ad blocker interference detected!
Wikia is a free-to-use site that makes money from advertising. We have a modified experience for viewers using ad blockers

Wikia is not accessible if you've made further modifications. Remove the custom ad blocker rule(s) and the page will load as expected.