Industry
*Automotive




Robotics
Financial services

Founded
August 28, 1937
Founder(s)
Kiichiro Toyoda
Headquarters
Toyota, Aichi, Japan
Area served
Worldwide
Products
Automobiles

Financial Service
Toyota Motor Company
is an Japanese multinational automaker headquartered in Toyota, Aichi, Japan. In 2010, Toyota Motor Corporation employed 417,734 people worldwide, and is the world's largest automobile manufacturer by production. The company was founded by Kiichiro Toyoda in 1937 as a spinoff from his father's company Toyota Industries to create automobiles. Three years earlier, in 1934, while still a department of Toyota Industries, it created its first product, the Type A engine, and, in 1936, its first passenger car, the Toyota AA. Toyota Motor Corporation group companies are Toyota (including the Scion brand), Lexus, Daihatsu and Hino Motor.) TMC is part of the Toyota Group, one of the largest conglomerates in the world. In 1936, Toyota entered the passenger car market with its Model AA and held a competition to establish a new logo emphasizing speed for its new product line. After receiving 27,000 entries, one was selected that additionally resulted in a change of its moniker to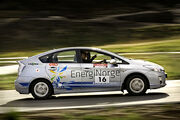 "Toyota" from the family name "Toyoda." It was believed that the new name sounded better and its eight-stroke count in the Japanese language was associated with wealth and good fortune. The original logo no longer is found on its vehicles but remains the corporate emblem used in Japan. Still, there were no guidelines for the use of the brand name, "TOYOTA", which was used throughout most of the world, which led to inconsistencies in its worldwide marketing campaigns. oyota is one of the largest companies to push hybrid vehicles in the market and the first to commercially mass-produce and sell such vehicles, an example being the Toyota Prius. The company eventually began providing this option on the main smaller cars such as Camry and later with the Lexus divisions, producing some hybrid luxury vehicles. It labeled such technology in Toyota cars as "
Hybrid Synergy Drive
" and in Lexus versions as "
Lexus Hybrid Drive
." From November 2009 through the first quarter of 2010, Toyota recalled more than 8 million (accounts differ) cars and trucks worldwide in several recall campaigns, and briefly halted production and sales.
Ad blocker interference detected!
Wikia is a free-to-use site that makes money from advertising. We have a modified experience for viewers using ad blockers

Wikia is not accessible if you've made further modifications. Remove the custom ad blocker rule(s) and the page will load as expected.