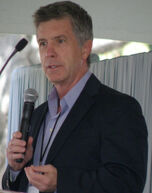 Tom Bergeron
(b.1955 - ) is the current CEO of the
FBN
(French Broadcast Network) and currently resides in Quebec City,
Quebec
, with his wife, Lois. Bergeron was born in Haverville, Massachusetts, and graduated from high school in the 1972, and was accepted in to the University of Massachusetts, Boston. He graduated from UMB with an major in economics, and later got his first job as an local disc jockey.
During his career, he met and married Lois Bergeron in 1982. In 1998, he founded FBN from an small studio in Quebec, and later expanded to have studios in Vancouver, Paris, Rio de Janeiro, Los Angeles, and Tokyo.
Bergeron has two daughters: Samantha and Jessica, who are out of state attending University of Nevada Las Vegas and University of California San Diego. Tom usually guest stars on economics shows, and appeared once on the Goodman Show.
Ad blocker interference detected!
Wikia is a free-to-use site that makes money from advertising. We have a modified experience for viewers using ad blockers

Wikia is not accessible if you've made further modifications. Remove the custom ad blocker rule(s) and the page will load as expected.