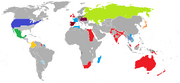 Info
To Arms In Dixie is set place in where the Confederacy beats the Union in the American Civil War. There are no territorial changes but slavery is still in the south.
United States Of America-Blocky858
Confederate States Of America-Double Cleff
Mexico-
Canada-
Cuba- User:Saturn120
Caribbean-
South America-
Africa-
China-
Japan-
Rest of Asia-
Oceania-
Great Britain-
France-
Germany-
Spain-
Russia-
Rest of Europe-
Ad blocker interference detected!
Wikia is a free-to-use site that makes money from advertising. We have a modified experience for viewers using ad blockers

Wikia is not accessible if you've made further modifications. Remove the custom ad blocker rule(s) and the page will load as expected.