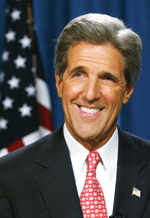 2004
November 2: The Democratic Presidential ticket of John Kerry and John Edwards defeats incumbent President George W. Bush and Vice President Dick Cheney, with American participation in Iraq and a failing economy seen as key campaign issues. The result is narrow, but the Kerry/Edwards team wins the election by 279 Electoral Votes to 259. Kerry fails to win the popular vote, winning 49.1% of the vote to Bush's 49.9%. In his victory speech, President-Elect Kerry says "A stronger America begins today. A better America begins today. A new America begins today!"

The Bush campaign refuses to concede defeat, and recounts are ordered in several states, including Ohio, which Kerry won by less than one per cent which was the state that decided the election. By early December, recounts have completed, and the Kerry result stands. The Republicans gain seats in Congress despite Kerry's performance. The Republicans gain four House seats and four Senate seats.
December 13, 2004: The Electoral College meets and formally elects John Kerry as President and John Edwards as Vice President.
December 15, 2004: Senator Kerry officially resigns from the United States Senate. On December 19, Governor Romney of Massachusetts chooses Lieutenant-Governor Kerry Healey, a fellow Republican, to replace Kerry in the Senate. This is seen as the first major blow to Kerry, who has been dealt a slap in the face before he has even been sworn in. Vice-President-elect Edwards is not replaced by the Governor, since he did not seek re-election. He continues as a Senator until his term expires on 3rd January.
2005
January 4: As a show of bipartisan goodwill, Vice President-elect Edwards attends the swearing in ceremony of his successor in the Senate, Republican Richard Burr.
January 5: Kerry announces some of his cabinet nominations. Former ambassador to the UN under the Clinton Administration, Richard Holbrooke, is nominated to be Secretary of State, and Iowa Governor Tom Vilsack to be Secretary of Agriculture. Michigan Governor Jennifer Granholm is nominated as Secretary of Energy. Former Treasurer of the United States Mary Ellen Withrow is nominated to be the first woman Secretary of the Treasury. In perhaps the most surprising move, Kerry nominates Maine Senator Susan Collins, a Republican, as Secretary of Homeland Security. Other Cabinet nominations are announced in the next few weeks, including Arizona Governor Janet Napolitano as Attorney General, New Mexico Congressmen Tom Udall as Secretary of the Interior, Former Hawaii Governor Benjamin Cayetano as Secretary of Labor, Secretary of Labor under the Clinton Administration Alexis Herman as Secretary of Commerce, Texas Congressmen Charlie Gonzales as Secretary of Veterans Affairs, Boston Mayor Thomas Menino as Secretary of Housing and Urban Development, Former New Hampshire Governor Jeanne Shaheen as Secretary of Health and Human Services, Former North Carolina Governor James Baxter Hunt Jr. as Secretary of Education,and California Congresswoman Juanita Millender-McDonald as Secretary of Transportation. Kerry suffers a setback when his first choice for Defence Secretary, Jack Reed, declines the offer to remain in the Senate. Kerry offers the position to Tony Lake, former National Security Adviser to President Clinton. It is revealed much later that Lake's successor, Sandy Berger, had been considered for the role, while under investigation for removing classified material from the National Archives.
January-February: The Senate confirms all of Kerry's nominees.
January 20: At a ceremony at the Capitol Building in Washington, DC, John Forbes Kerry is sworn in by Chief Justice Rehnquist as the 44th President of the United States. Security is tighter than at any Presidential inauguration previously after Kerry receives a higher-than-usual number of threats. In his inaugural speech, Kerry speaks of "a change in America" and promises to govern "wisely, for all Americans." He promises a thorough review of American policy in Iraq, and announces he will set up a bipartisan commission to study America's options. Notably, former President Bush is present at the ceremony and behaves with great dignity much like his father 12 years before. Unlike four years before, the White House is not lotted by angry staffers.
January 24: Four days after taking office, President Kerry asks the U.S. Senate to ratify the Kyoto Protocol.
January 30: Iraq holds its first free elections, surprisingly there is little violence and voter turnout is high across the country. The National Assembly begins to construct a new Constitution. The majority Shia population controls the new assembly, leading to violence among the country's Sunni population.
February 6: Kerry's home team, the New England Patriots, win the Super Bowl. Kerry personally congratulates them, and later mentions them in his State of the Union address.
February 10: The Senate rejects the Kyoto Protocol by a vote of 55-45.
February 19: Former U.S. Presidents Bill Clinton, George H. W. and George W. Bush tour regions of Thailand affected by the Asian Tsunami.
February 20: The United States and Japan release a joint statement which says that easing tensions in the Taiwan Strait is among their "common strategic objectives". The statement is welcomed by the government of Taiwan, but is condemned by China.
February 23: President Kerry makes his first overseas trip, visiting Germany, France, the UK and Slovakia, becoming the first President to visit Slovakia. He attends the Slovakia Summit.
February 29: Following discussions with Prime Minister Martin of Canada, President Kerry declares an indefinite halt to the U.S. Missile Shield project, provoking an angry reaction from Republicans who accuse him of being soft on defence. This move in the face of North Korean and Iranian moves towards nuclear weapons send President Kerry's approval ratings from 54% to 46%.
March 1: In a major change to capital punishment in the United States, by a closely-divided vote, the US Supreme Court rules, in Roper v. Simmons, that imposition of the death penalty on persons convicted of capital crimes committed before they were 18 is unconstitutional. President Kerry welcomes the verdict, but it strengthens the belief that Kerry is just another soft-on-crime Massachusetts liberal, his approvals drop to 42%.
March 7: President Kerry orders U.S. military prosecutors to prepare the detainees at Guantanamo Bay to face criminal charges.
March 15: In a speech to the U.S. House of Representatives, Congressman Harry Waxman (D-Cal) accuses accusing the administration of having withheld a damaging audit regarding overcharges by Halliburton for services in Iraq (such as charging $27,000,000 for transporting $82,000 worth of fuel from Kuwait to Iraq). The Democrats call for an investigation of certain former Bush Administration officials.
March 25: The Pentagon announces that eleven detainees from Guantanamo Bay will be released and repatriated following an 'absence of credible evidence to warrant charges in the United States'. A further seven, including Australian David Hicks, will face trial in June for a range of charges relating to the support of terrorism.
April 8: President Kerry, a Catholic, attends the funeral of Pope John Paul II in Rome.
April 30: President Kerry formally endorses a candidate for mayor of Los Angeles, Antonio Villaraigosa, repaying Mr. Villaraigosa's support for his own presidential campaign in 2004.
May 1: The United States informs Japan that North Korea may have launched another test missile towards the Sea of Japan. The report is now said to be confirmed. The State Department begins negotiations with Korea, despite criticism of pandering.
May 2: A State Department report on terrorism shows an increase in the number of people worldwide who have been killed in acts of terrorism. President Kerry calls for action, and proposes an international summit conference to address issues of terrorism around the globe.
May 5: In the United Kingdom, Tony Blair's ruling Labour Party suffers large losses at the general election to the opposition Conservatives and particularly the anti-war Liberal Democrats. Blair manages to hold on to power but his position becomes less tenable as the number of British casualties in the Iraq conflict continue to grow.
May 16: Secretary of State Richard Holbrooke visits Iraq and tells U.S. troops to "keep fighting" to liberate the country from the ongoing insurgency. In the same speech, he states the need for a 'dialogue' between the insurgents and the Iraqi government. Conservative commentators like Rush Limbaugh poke fun at the stupid idea of having a summit with the people who are trying to kill you.
May 20: Four high profile Guantanamo Bay detainees, including Australian David Hicks, are released. The Justice Department admits that the cases against them are simply too weak to sustain prosecution. In the end it is recognized that the prisoners of war captured in Afghanistan were no different under international humanitarian law (law of war) than members of the NLF captured by the U.S. during the War in Vietnam, and should be treated the same.
June 1: On the release of the so-called 'Downing Street Memo', President Kerry blasts the former administration for concealing information about the Iraq war. The President does not directly criticise the Blair government, but his comments increase anti-Blair feelings in the UK, leading many to suggest Blair will resign before the end of 2005.
June 13: President Kerry announces that 40,000 U.S. troops will be withdrawn from Iraq to deal directly with the primary grievance motivating the Iraqi insurgency. His plan is heavily criticised by some Democrats and almost all Republicans, who claim Kerry is only exacerbating the situation. Recently-elected Senator Barack Obama publicly calls for a complete withdrawal by December 2006. However, the overwhelming majority of Americans disagree with the move. A poll finds that 69% of Americans disapprove of the action. The same poll indicates that President Kerry's approval rating has dropped to an abysmal 36%.
June: Within days of the announcement of troop reduction violence in Iraq begins to drop.
June 21: Another seven Guantanamo Bay inmates are released. As with the previous four detainees, the cases against these are too weak to sustain prosecution.
July 5: President Kerry in his weekly message to the nation announces that he will be pushing Congress to re institute the Fairness Doctrine. Kerry and his advisors hope to remove the threat of conservative talk radio. Talk radio hosts both liberal and conservative join to oppose the move and it soon back fires and hurts Kerry and withdraws his plan with two weeks.
July 23: Several Guantanamo detainees, including Australian David Hicks, are tried by a U.S. court. Though many are not so lucky, Hicks is found not guilty and returned home, where he begins to speak out against his treatment at Camp X-Ray and causes severe embarrassment for the Australian government.
August 29: Hurricane Katrina devastates the U.S. Gulf Coast. At least 1,836 people are killed, and most of southern North America is affected by the disaster. President Kerry appears on TV and announces a massive humanitarian and rescue mission, and directs FEMA to begin rescue and cleanup operations. Kerry is reported in a number of sources to have taken "personal charge" of the Katrina aftermath effort, and is praised by some for visiting the devastated region immediately.

There is still, however, criticism about the government's handling of Katrina, and accusations the Department of Homeland Security, which oversees FEMA, was unprepared and badly organised. FEMA director Thomas Collins and Homeland Security Secretary Susan Collins announce a joint review into FEMA's operations, known as the Collins Review, that eventually results in a stronger and more organised disaster relief strategy across the entire United States.
Some of the criticism after the fact is levelled at President Kerry, who is accused, especially by Republicans in Congress, of politicising a tragedy after administration officials make several unrelated comments regarding the disaster.
September 3: Chief Justice William Rehnquist dies. Two days later President Kerry announces Martha Craig Daughtrey as Rehnquist's successor as Chief Justice. The move to nominate her to Chief Justice draws opposition from Republicans.
September 18,2005: Angela Merkel's CDU wins a narrow victory in the German Federal election.
September 22,2005: Angela Merkel is elected by the German Parliament as Germany's first female chancellor.
October 1: President Kerry and Senate Minority Leader Bill Frist agree that in exchange for the Daughtrey nomination, Sandra Day O'Connor will retire and be replaced by John Roberts a conservative.
October 15: Martha Craig Daughtrey is easily confirmed by the Senate and sworn in as America's first woman Chief Justice. Roberts is also confirmed in his seat as Associate Justice.
October 18: Former Mayor of New York Rudy Giulani becomes the first Republican to suggest a Presidential run in 2008, announcing he is considering a run.
October 19: Saddam Hussein begins his trial for war crimes in Iraq.
October 28: Lewis "Scooter" Libby, an aide to former Vice President Dick Cheney, is indicted on five counts: one count of obstruction of justice, two counts of making false statements when interviewed by agents of the FBI, and two counts of perjury in his testimony before a grand jury. The charges all relate to his involvement in the Valerie Plame affair.
November 1: In New Jersey Republican former U.S. Attorney Chris Christie defeats U.S. Senator Jon Corzine 49% to 47% in the race for governor. In Virginia, Republican Jerry Kilgore defeats Democrat Tim Kaine 56% to 42%. In Los Angeles, Walter Moore (R) defeats Antonio Villarigosa (D) for mayor 36% to 30%.
2006
January 15 Michele Bachelet is elected Chile's first woman President.
January 16 Ellen Johnson Sirleaf is sworn in as Liberia's first elected woman president and Africa's first elected woman head of state.
February 11: Vice President John Edwards creates a minor storm and plenty of material for late night talk-show hosts when he introduces President Kerry at a fundraising dinner but forgets his name. The incident is minor, and blamed on fatigue (Edwards hadn't slept for two days), but it is a Quayle-esque moment that alters Edwards' public image somewhat.
March 18: President Kerry sends a series of bills to Congress with the intent of regulating the healthcare industry, the first steps towards greater health coverage for many Americans. Republicans instantly attack the bill and a fierce debate ensues, echoing Bill Clinton's attempt to do much the same thing early in his term. House Speaker Dennis Hastert accuses Kerry of attempting to undermine America's free-market economy. Other Republicans express similar concerns.
April 14: President Kerry announces that Camp X-Ray will close by the end of the year, and that all remaining inmates will be transferred to the civilian prison system.
April 23: The U.S. House of Representatives rejects all the Kerry healthcare measures.
May 22: After the bloodiest day of violence in Iraq since the beginning of the war, the White House announces a bipartisan committee, consisting of four Democrats, four Republicans and chaired by former U.S. commander in Iraq General Ricardo Sanchez (called the Sanchez commission). It will hand down its final report in January 2007.
June 16: President Kerry sends a bill to Congress to increase the minimum wage and to link it to inflation. The Republicans immediately condemn the bill as anti-business. The President tries to circumvent the legislative process and directs the Department of Labor to enact the proposals through regulations, executively.
July 2: In a close and controversial election, Felipe Calderon is elected President of Mexico.
July 5: North Korea test-fires a nuclear missile, prompting fears of a potential nuclear conflict in Asia.
July 16: After Israeli troops invade Lebanon in retaliation for the kidnap of an Israeli soldier by Hezbollah fighters, Secretary of State Richard Holbrooke is dispatched to the region as part of an attempt to secure a peaceful resolution to the conflict.
July 24: Peace talks break down in Lebanon and Biden returns to the U.S., in the Kerry Administration's first serious foreign policy disaster. The violence in Lebanon continues to rage until August, when a UN resolution takes effect and a brokered ceasefire begins.
July 28: The Supreme Court rules in League of United Latin American Citizens v. Perry rules that the 2003 Texas redistricting plan orchestrated by then house Majority Leader Tom Delay is constitutional and does not strike down the entire plan as partisan gerrymandering but does rule parts of the plan are unconstitutional because they unfairly limit the influence of minorities.
September 11: President Kerry visits Ground Zero in lower Manhattan on the fifth anniversary of the terrorist attacks.
September 19: A military coup overthrows Thai Prime Minister Thaksin Shinawatra. Washington severs diplomatic ties with Bangkok, but they are re-established within eight weeks of the coup.
October 9: North Korea reports a failed nuclear test. Then they plan to surprisingly cease more Nuclear tests, abandoning the project all together.
October 13: South Korea's Ban Ki-Moon is elected as the next UN Secretary General.
October 17: The U.S. Census Bureau shows the United States population to have reached 300 million.
October 25: The Supreme Court of New Jersey effectively legalises gay marriage. While not supporting gay marriage, President Kerry endorses the move as a victory for states rights and for equality, and begins a review into federal policy on civil unions.
November 5: Saddam Hussein is sentenced to death. The decision is said to profoundly worry John Kerry. Kerry reportedly spends hours at a time on the phone to Iraqi authorities, in an attempt to get the Iraqi government to commute the sentence. When it is discovered that Kerry had lobbied on Hussein's behalf, conservatives including the hit new Fox News program 'Half-Hour News Hour' pokes fun of Kerry and hurts his public image even worse.
November 7: In President Kerry's first midterm election, the Republicans gain five governorships from the Democrats and now control of the majority of the nation's governorships 37 to 13 . The Republicans gain 31 seats in the House of Representatives and six seats (Florida, Maryland, Michigan, Minnesota, New Jersey, and Washington) in the Senate. The election brings with it several firsts, Keith Ellison of Minnesota becomes the first Muslim in congress, Mazie Hirono of Hawaii and Hank Johnson of Georgia become the first Buddhists in congress. Alaska and Illinois also see the election of their first woman governors.
November 13: Following the great Republican victory, Rudy Giulani announces he is forming a Presidential exploratory committee.
2007
January 3: The 110th congress takes office and lead by Mitch McConnell and Roy Blunt passes bills making the Bush Tax-Cuts permanent (Kerry vetoes and Congress fails to override) and also enact all recommendations made by the 9/11 Commission (Kerry approves the bill), Grant federal funding to building a border fence and adding 2,500 agents to the Border Patrol (Kerry vetoes and Congress fails to override). Congress also passes the 28th. Amendment which mandates a balanced budget (it is ratified by the states in June, 2008).
January 23: President Kerry gives his fourth State of the Union address. The Republican Response is delivered by Maryland Senator Michael Steele the second Republican African American to do so (no black Democrat has ever had such an honor).
January 25: Virginia Senator and former Governor George Allen announces his bid for the presidency.
January 28: Former Arkansas Governor Mike Huckabee announces, several weeks after leaving office, that he will run for President. His announcement is overshadowed, however, by John McCain's very public announcement of his candidacy on The Late Show with David Letterman.
February 13: Massachusetts Governor Mitt Romney announces he will run for President. The announcement is said to rattle some White House officials, since President Kerry is also from Massachusetts.
February 15: Rudy Giuliani announces his candidacy for President.
March 22: Vice President John Edwards' wife Elizabeth announces that her cancer has become malignant. The Vice President and his wife make a joint TV appearance followed by a long interview with Diane Sawyer in which Edwards states he intends to remain Vice President but doesn't rule out standing down at the 2008 election, saying he will make a decision closer to the convention.
April 18: The Supreme Court rules in Gonzales_v._Carhart that the Partial Birth Abortion Ban act of 2003 in a 5-4 ruling is unconstitutional. The majority ruling delivered by Chief Justice Daugherty says it is unconstitutional because it does not include a provision for health of the mother and places an undue burden on the women. It is seen as a major victory for the Kerry Administration but inflamed the pro-life community.
April 21: Secretary of Transportation Juanita Millender McDonald dies.
May 6: Nicolas Sarkozy is elected President of France defeating Segolene Royal in a upset by a landslide margin of 56 to 44.
May 15: In a major televised debate between GOP presidential candidates, the Kerry administration is heavily criticised by all candidates for its failure to secure long-term stability in Iraq. Candidates Allen, Guilani, and Romney are particularly scathing. Romney says "This President was elected largely due to criticism about the Bush Administration's strategy in Iraq. And since he's been elected, nothing has changed. He promised everything and delivered nothing."
May 25: Nicolas Sarkozy takes office as France's president in an inauguration ceremony attended by leaders from around the world including British Prime Minister Tony Blair, German Chancellor Angela Merkel, Chilean President Michele Bachelet, and Liberian President Ellen Johnson Sirleaf.
June 10 and June 17: Sarkozy's party wins the French legislative election with a good victory of 334 seats or forty-five seats above the threshold required for a majority.*June 21:President Kerry announces Florida Congresswoman Corrine Brown will replace McDonald as Transportation Secretary.
June 24: Tony Blair steps down as Prime Minister of the UK and is replaced by Chancellor of the Exchequer Gordon Brown.
July 29: Japanese Prime Minister Shinzo Abe's LDP suffers a devastating and historic defeat in the House of Councillors election resulting in the opposition DPJ taking control.
August 1: The I35W bridge in Minneapolis collapses. President Kerry issues a statement expressing deep sorrow for the citizens of Minneapolis and calls for prayer for the people of Minneapolis. Secretary of Transportation Corrine Brown along with Governor Mike Hatch, Minneapolis Mayor R.T Rybak and Congressman Keith Ellison, and Minnesota Senators Mark Kennedy and Norm Coleman and other Minnesota officials hold a press conference at the site.
August 2: President Kerry announces that all bridges with similar designs as the one in Minneapolis that collapsed will be immediately inspected. President Kerry offers the assistance of the Federal government and offers to assist in the recovery effort.
August 6: First Lady Teresa Heinz Kerry visits Minneapolis and tours the collapse site and visits with the victims families.
August 7: President Kerry declares a state of emergency in Minneapolis and announces he will visit the site in a few days.
August 8: French President Nicolas Sarkozy goes on vacation in the United States with his family to Lake Winnipesaukee in New Hampshire.
August 11: Nicolas Sarkozy visits President Kerry in Nantucket and has a private lunch with President Royal and holds a humorous but also briefly serious press conference President Sarkozy remarks that while her and President Kerry may not always agree the U.S. is still an ally. President Kerry remarks that France and the United States will continue to work together but will make sure that France's concerns are heard and taken into consideration in foreign policy.
Also on August 11, Mitt Romney wins the Iowa Straw Poll, with Mike Huckabee coming in a surprising second over George Allen. Rudy Guilani fares poorly, as does John McCain.
August 12: President Kerry visits Minneapolis and tours the collapse site and visits with the victims families and meets with Minnesota Governor Mike Hatch, Senators Amy Klobuchar and Norm Coleman, Congressman Keith Ellison, Minneapolis Mayor R.T Rybak and other Minnesota officials to discuss recovery efforts. Transportation Secretary Corrine Brown joins the President Kerry on the trip.
September 5-9: The APEC Forum is held in Sydney, Australia, with President Kerry visiting that country for the first time. During the proceedings, the satirical TV program The Chaser's War on Everything causes a security scare by infiltrating the secure zone in a fake Canadian motorcade and disembarking with a comedian dressed as Osama bin Laden outside the hotel where Kerry is staying. Kerry is reported to be 'mildly amused' by the incident; the same cannot be said for the Australian government.
Also during APEC, Kerry meets with Australian Prime Minister John Howard and opposition leader Kevin Rudd. Kerry and Rudd find common ground quickly on matters such as climate change and Iraq. Rudd informs Kerry that he plans to remove Australian troops from Iraq in a 'staged withdrawal'. Kerry and his aides do not comment publicly on that issue.
September 10: In an address to the nation Kerry announces that troops in Iraq will return to pre surge levels by the end of December due to a reduction in violence and increased stability. He announces the first troops will start coming home by the end of October. Kerry also announces that thousands more troops will come home by March of 2008.
September 12: Japanese Prime Minister Shinzo Abe resigns and leadership elections are called.
September 26: MP Yasuo Fukuda is elected the new leader of the LDP and thus the new Prime Minister of Japan.
September 27 Illinois Senator Barack Obama announces he will finish his term and run for a second.
October 16: Kerry's home state of Massachusetts in an upset elects Republican Jim Ogonowski over Democrat Niki Tsongas in a special congressional election to replace Marty Meehan who retired to become Chancellor of the University of Massachusetts at Lowell.
October 22-23: President Kerry declares a disaster area in southern California as 500,000 people are evacuated following massive wildfires around Los Angeles and San Diego. Kerry later visits the site and is photographed with a young boy whose parents lost their home. The photograph of Kerry offering the boy his jacket is front-page news across the nation, though critics say the photo is a staged event designed to distract from obvious failings in FEMA's response to the disaster in some areas.
October 28: First Lady and Senator Cristina Fernández de Kirchner is elected Argentina's second woman president but is the first to be elected. Her Husband President Nestor Kirchner had several months before declined to run for reelection.
November 6-7 French President Nicolas Sarkozy makes a state visit to the United States. President Sarkozy address a Joint Session of Congress and gets an overwhelming standing ovation at his arrival. Sarkozy express that although his and the current administration may not always agree, when the going gets tough France will stand with the United States. He also discuss the need to establish fair trade and that both administrations must work together to do all that is necessary to prevent Iran from getting nuclear weapons. Later President Kerry holds a joint press conference in Mount Vernon, Virginia. They discuss topics including Lebanon, energy, Afghanistan, violence in the Middle East.
November 24: In Australia, the conservative government of John Howard, a key ally of the Bush Administration, loses at the polls against a resurgent Labor Party led by former diplomat Kevin Rudd. Labor wins 12 seats from the government and Howard wins re-election by only 3,600 votes. In spite of these losses, Howard is able to maintain his government for another term. The near downfall of Howard is celebrated by opponents of the Iraq war, as he is seen by many as one of the three major supporters of the war, the others being Bush and Blair, and two of the three are no longer in office. Howard promises national reconciliation. President Kerry, upon visiting Australia for APEC, had met with Howard and the two had apparently got on well, signalling a good future for US-Australian relations.
December 14: At the United Nations Climate Change summit in Bali, President Kerry (who attends personally) commits the United States to binding targets for reducing greenhouse gas emissions. With U.S. endorsement, Great Britain and Australia also agree to the targets. There is, however, dispute over which targets to set.
December 18': Pro-Western Yulia Tymoshenko becomes Prime Minister of Ukraine for the second time after a coalition between her party the Yulia Tymoshenko Bloc and the Our Ukraine–People's Self-Defense Bloc gained a narrow victory in early parliamentary elections a few weeks earlier. President Kerry calls Prime Minister Tymoshenko to offer his congratulations and expresses that he looks forward to working with her on many issues.
December 27: Former Pakistani Prime Minister Benazir Bhutto is assassinated by a gunman and suicide bomber after a campaign rally in preparation for the January 8 parliamentary elections. President Kerry makes a televised statement saying I am profoundly saddened and outraged by the assassination of Benazir Bhutto, a leader of tremendous political and personal courage. This was was a despicable, completely senseless and cowardly act. Those who committed this atrocious act ought to be ashamed of themselves and those responsible will be hunted down and brought to justice. This is terrible reminder of the work that remains to bring peace, stability, and hope to regions of the globe too often paralyzed by fear, hatred, and violence. My family and I extend our condolences and deepest sympathies to the victims and their families and to the people of Pakistan.
December 28,: Vice-President John Edwards announces that he will make a decision on whether or not to stand down at the 2008 election and if he will resign due to his wife's cancer by the end of January.
December 31 President Kerry along with NASA announce the Avalon Project, which will replace the aging Shuttle Program by mid 2011. NASA shows great interest in building colonies on the Moon by 2025 and a manned mission to Mars by 2030.
2008
January 3: Former Arkansas Governor Mike Huckabee comes in first and Governor Mitt Romney comes in second in the Iowa caucus. President Kerry is unopposed for the Democratic nomination.
January 8: John McCain pulls an upset in the Republican primary in New Hampshire, defeating Mitt Romney by three points. Meanwhile, The Drudge Report describes an apparent move inside the Democratic Party to replace Vice President Edwards with Illinois Senator Barack Obama or Louisiana Senator Mary Landrieu.
January 14: President Kerry announces that an additional 5,000 troops will be arriving home from Iraq by May and that the troops that have come from Iraq will not be returning. President Kerry also announces that a major announcement regarding Iraq is planned sometime in the next week and a half. There is huge speculation over when it will come and what the announcement will say. Most in the media believe it will be announced with as part of the State of the Union Address.
January 16: Mitt Romney wins the Republican presidential primary in Michigan 35% to McCain's 33%.
January 19: Senator McCain narrowly wins the South Carolina primary, defeating Mike Huckabee by a razor-thin margin of 29% to 28%. George Allen finishes third at 25% and announces he will drop out of the race. Rudolph Guiliani fares poorly, expecting to make gains in the Florida primary on January 29 and on "Tsunami Tuesday", February 5. Meanwhile, the Nevada caucuses overwhelmingly endorse President Kerry for a second term while Mike Huckabee wins the Nevada Republican caucuses.
January 25: Vice President John Edwards announces he intends to remain as Vice President. President Kerry later confirms to the media that Edwards will be on the Democratic ticket for the 2008 election.
January 29: John McCain wins the Florida primary for the Republicans. Rudy Guiliani withdraws his candidacy and endorses McCain. George Allen endorses Mike Huckabee.
January 31: California Governor Arnold Schwarzenegger endorses McCain as does former Secretary of State Colin Powell.
February 5: On 'Super Tuesday', McCain wins the Republican primaries in California, Illinois, Arizona, New York, many others, while Mike Huckabee wins across the South. Though the result is not enough to make him the Republican presumptive nominee, it cements McCain as the most likely candidate to run against President Kerry in November. Mitt Romney drops out of the race and will endorse McCain later.
February 19: Fidel Castro announces his retirement as President of Cuba. Secretary of State Richard Holbrooke declares he will visit Cuba as speculation mounts the Kerry administration will make a major policy announcement on Cuba, possibly lifting the longstanding trade embargo, soon. Meanwhile, McCain's victory in the Wisconsin Primary still doesn't assure him the Republican nomination for President.
February 23: Both former Presidents Bush endorse McCain for President. George W. Bush's endorsement comes as reports surface that he was approached by Republican Party insiders, notably his former adviser Karl Rove, to seek the Republican presidential nomination himself. Bush, and Rove, both deny the reports.
March 4: John McCain's wins in Texas and Ohio giving him a commanding lead in delegates for the Republican nomination.
March 12: New York Governor Elliot Spitzer, who campaigned for Kerry and was considered, briefly, as a replacement for VP Edwards on the ticket, resigns over a sex scandal in which he allegedly patronized a call girl ring. Spitzer's resignation sends shock waves through the Democratic Party. President Kerry admonishes Spitzer while a few maverick Republicans in Congress suggest an investigation into Washington call girl rings, perhaps hoping to net more Democrats.
Late March: As China cracks down on protesters in Tibet, leaving more than one hundred dead according to the Tibetan exiled government, President Kerry urges China to 'exercise restraint' but rules out any U.S. boycott of the 2008 Olympics. His comments spark protest among some segments of the U.S., including some Democrats in Congress, who accuse Kerry of being too soft on human rights abuses in China.
August 8 While President Kerry is overseas for the Opening Ceremony of 2008 Olympic Games in Beijing. It is revealed by ABC News that Vice President John Edwards lied about an extramarital affair he had in 2006 but denies reports he fathered a child with the women. Vice President Edwards holds a press conference and announces that he is ashamed of his conduct and deeply sorry for lying to the nation. Edwards announces he is discussing his options with his family and regrets it coming out so close to the Democratic Convention. He also announces will make a decision about weather or not to resign from the 2008 ticket in a few days. Meanwhile Russia invades the Republic of Georgia.
August 10: President Kerry returns to Washington and makes a statement in the Rose Garden about the Russian invasion of Georgia. ""Russia's actions are completely unacceptable and unjustified. Russia had invaded Georgia's sovereignty and appears to be on the move towards Tblisi to topple its government. Russia relations with the U.S. and the world have been severely damaged.
August 12: Edwards announces he will not be on the 2008 ticket and gives a Sherman denial about another term as vice president. He also says he probably will resign after the Democratic convention in Denver. President Kerry defends his Vice President's character but says he supports his decision to stand down. Speculation becomes rife about who President Kerry will name as his replacement on the Democratic ticket. Leading contenders include Hillary Clinton, Kathleen Sebelius, Joseph Biden, Bill Richardson, Tim Kaine, Evan Bayh and a host of others. Kerry's only statement is that there are "a lot of good candidates."
August 19: Zambian President Levy Mwanawasa dies in Paris, France after suffering a stroke. President Kerry issues a statement saying " President Mwanawasa was a champion of democracy in his own country and throughout Africa. He spoke out on human rights abuses and other serious issues when no one else would. He will be sorely missed. Zambia and Africa have lost a great leader and true hero. On behalf of the United States, we extend our sincere condolences to President Mwanawasa's wife, his family, and all Zambians during this difficult time."
August 22: Only three days before the Democratic convention, President Kerry announces his choice for his running mate to replace Vice President Edwards on the ticket. It is Hillary Clinton, Senator from New York considered to be planning a presidential run in 2012. The Kerry/Clinton ticket prepares to challenge McCain and his still-unnamed running mate. Her nomination receives tremendous praise as she is the first women in 24 years to run on a national ticket for a major party.
August 29: McCain names Pennsylvania Governor Lynn Swann as his running mate.
September 1: Japanese Prime Minister Yasuo Fukuda announces his resignation.
September 11:McCain and Swann as well as Kerry, Clinton and Edwards visit Ground Zero in lower Manhattan on the 7th anniversary of the terrorist attacks.
September 12: President Kerry announces that all US combat soldiers leave Iraq by May 2010, but that some may be sent to Afghanistan to deal rising violence.
September 13: Financial markets go into a tailspin as the DOW drops 800 points amid a worsening economy.
September 17: In a televised address, President Kerry says that he is planning a stimulus bill for the economy. New polls show that President Kerry's approval ratings have fallen to 42%.
September 24: Taro Aso is elected by the Japanese House of Representatives as the new Prime Minister of Japan.
September 25: On the eve of the first presidential debate the new 250 billion dollar stimulus bill fails to pass the House or the Senate.
September 26:- The first presidential debate is held at the University of Mississippi in Oxford, Mississippi, The debate is considered a win for McCain.
October 2,:- The first and only vice presidential debate is held in St. Louis, Missouri. Post debate polls show a majority of Americans feel Hillary Clinton won the debate.
October 7: The second presidential debate is held in Nashville, Tennessee a town hall style debate. Post debate polls show that a majority of Americans feel Senator McCain won the debate
October 12:-New polls show Kerry/Clinton trailing McCain/Swann 49 to 42 and trailing in Missouri, Virginia, Iowa, Nevada, Arkansas, Colorado and New Mexico.
October 15:-The final presidential debate is held at Hofstra University in Hempstead, New York. Post debate polls show that a majority of Americans feel Kerry won the debate.
October 26: Despite stating that a stimulus bill will provide a significant boost to the economy, most financial experts are against it. Meanwhile Kerry's approval rating dips below 39%% as the economy continues to crumble.
October 27: A new Time/CNN poll shows McCain/Hutchinson leading Kerry/Clinton 50% to 42%.
November 4: McCain/Swann easily defeats incumbent presidential ticket of Kerry/Clinton, winning the electoral vote 385 to 153 and the popular vote 53.6 to 45.0. The Republicans gain 4 seats in the Senate and keep the House by a 260-175 margin.
December 1:- The Large Hadron Collider in Switzerland/France suffers what is described as a major incident during repairs. Full details of exactly what occurred are not given. It is announced that the collider was not in operation at the time and that there is absolutely no danger whatsoever, however the project has been shut down and all operations at CERN are suspended until further notice. The French government announces that it is filing suit in the EU Courts to prevent further operation of the facility pending a full scale investigation and inquiry. Switzerland announces that it will file suit in its own courts against CERN. Both countries state that they will not allow any further operation of CERN's entire facility until both countries give permission and force will be used if needed. Later in the day President Kerry holds a press conference saying that he supports France's and Switzerland's actions and demands that CERN release full details of what happened. President Kerry also announces that U.S. funding for all similar projects both foreign and domestic is suspended until a investigation of the safety and building code compliance of particle accelerators is completed.