Prelude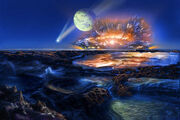 4.5 Billion Years Ago — A protoplanet collides with early Venus. The collision forces the planet upside down and pushes a debris field into orbit around the planet. Over the million years, the debris field would coalesce into Neith (the moon of Venus). The new moon stabilizes Venus' axis tilt and rotational speed.
17th Century
1672 — Franco-Italian astronomer Giovanni Domenico Cassini becomes the first to observe Neith and provides the first details of the moon.
18th Century
20th Century
1960s
1962
1966
1969
1970s
1970
December 15 — Soviet Venera 7 becomes the first man-made object to transmit data from the surface of Venus.
1975
October 22 — Soviet Venera 9 becomes the first man-made object to both orbit Venus, and the first to transmit images from the Venusian surface.
1980s
1982
March 1 — Soviet Venera 13 becomes the first man-made object to transmit color images from the Venusian surface, as well as the first confirmation of life on Venus.
1985
June 11 — Valentina Tereshkova becomes the first person to set foot on Venus. The Soviet Union begins to populate Venus.
1990s
1990
August 7 — The United States set foot on Venus.
21st Century
2000s
2001
March 17 — Five Soviet settlements unite and declare independence as the Confederation of New Kamchatka (becoming the first independent nation on Venus).
2010s
Ad blocker interference detected!
Wikia is a free-to-use site that makes money from advertising. We have a modified experience for viewers using ad blockers

Wikia is not accessible if you've made further modifications. Remove the custom ad blocker rule(s) and the page will load as expected.