The following Russian America timeline is under construction.

Please do not edit or alter this article in any way while this template is active. All unauthorized edits may be reverted on the admin's discretion. Propose any changes to the talk page.
19th Century
1810s
1812
August — Fort Ross is competed. Ivan Kuskov encourages his men to permanently settle within the new colony.
1820s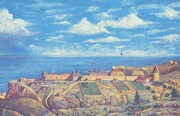 1821
1822
1824
1825
1826
1840s
1841
1848
1850s
1850
20th Century
1910s
1917
1970s
1974
April 4th — Marcelo Caetano receives an anonymous note, stating that a revolution against the government is planned to occur two days from now. Specifically, it singles out Vitor Alves, Otelo Sarvia de Carvalho, Vasco Lorenco, Salguerio Maia, and Costa Gomes. Caetano orders for their arrest through the PIDE.
April 5th — Marcelo Caetano gives a radio broadcast, proclaiming that a communist revolution had just been crushed before it had the chance to begin. Particularly, Costa Gomes is identified as the ring leader of the revolution. They are set to be put on trial on the 8th for treason against the state.