The following Russian America timeline is under construction.

Please do not edit or alter this article in any way while this template is active. All unauthorized edits may be reverted on the admin's discretion. Propose any changes to the talk page.
19th Century
1810s
1812
August — Fort Ross is competed. Ivan Kuskov encourages his men to permanently settle within the new colony.
1820s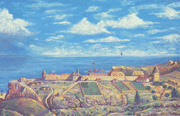 1821
1822
1824
1825
1826
1840s
1841
1848
1850s
1850
20th Century
1910s
1917
Ad blocker interference detected!
Wikia is a free-to-use site that makes money from advertising. We have a modified experience for viewers using ad blockers

Wikia is not accessible if you've made further modifications. Remove the custom ad blocker rule(s) and the page will load as expected.