Queendom of Britain Timeline
1533 - 1640
Tudor and Elizabethan Age (1533 - 1603)
September 7, 1533 - Elizabeth I is born in London. Her father is Henry VIII and her mother is Anne Boleyn
May 19, 1536 - Anne Boleyn is executed and Elizabeth is disinherited.
January 28, 1547 - Henry VIII dies. The throne is passed to Edward VI.
July 6, 1553 - Edward VI dies at age 15. In his will, he completely cuts out the recently re-inherited Elizabeth and Mary, and proclaims Lady Jane Grey to be his heir.
January 19, 1553  - Jane Grey is Queen for only nine days before Mary Tudor dethrones her. Elizabeth and Mary ride in together in London.
1550s - Mary, a devout Catholic in a Protestant country, makes Catholicism the official state religion and begins burning Protestants at the stake. Elizabeth is imprisoned in the Tower of London. She was later released and sent to the north of England under house arrest.
November 17, 1558 
- Mary I dies and the throne passes to Elizabeth.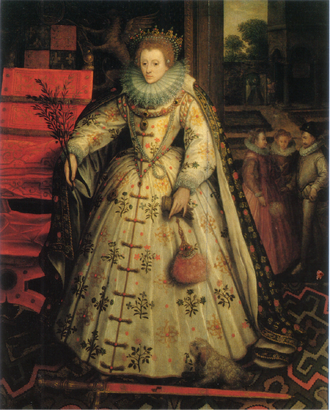 June 19, 1566 - James Stuart is born in Scotland.
July 24, 1567 - James becomes James VI of Scotland following his mother's abdication and exile to England.
June 3, 1575 - Arabella Stuart is born in northern England.
~1585 - Beginning of undeclared Anglo-Spanish War.
February 8, 1587 - Mary of Scotland, having been imprisoned by Elizabeth for twenty years, is executed.
~ 1587 - 1592 - Arabella visits Elizabeth's court in London.
July 29, 1588 - Battle of Gravelines and the English victory over the Spanish Armada
~1597 - James publishes a book on witchcraft and is rumoured to have observed accused witches being tortured and murdered.
January 12, 1599 - James VI is found dead. Henry, the son of James, is proclaimed King of Scotland.
January 31 - The death of James VI is declared as an assassination.
March 19 - An investigation finds Anne Borley, a Catholic noblewoman and accused witch, guilty.
August 1 - Anne Borley is hanged in Edinburgh.
May 10, 1600 - Elizabeth I addresses her Privy Council and declares Arabella as heiress to the English throne. Elizabeth makes them promise to keep her declaration a secret.
February 26, 1601 - Upon orders from the Queen, Arabella is requested to come to London to stay at court.
March 1 - At a court event, Elizabeth makes her first public declaration naming an heir. She names Arabella as the next Queen of England and declares her Princess Arabella.
March 17 - Princess Arabella and her Grandmother arrive in London.
November 30, 1601 - Elizabeth delivers her Golden Speech to Parliament.
April 19 - October 31, 1602 - Elizabeth allocates a seat on the privy council to Princess Arabella
Arabellic Age (1603 - 1640)
Early Reign of Arabella (1603 - 1630)
March 24, 1603 
- Elizabeth I dies and Arabella is named Queen of England.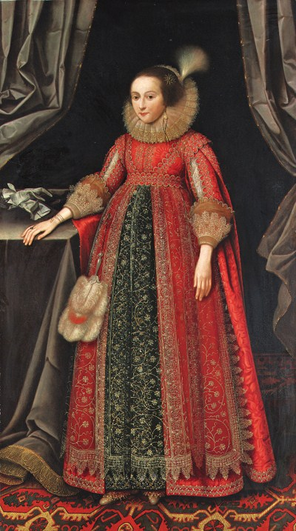 March 25 - Arabella names her grandmother, Bess of Hardwick, as Queen Mother. Despite her title, Bess Hardwick received no special powers or privileges. Arabella was practically a prisoner under her grandmother for some time in the 1570s, and she aimed at not becoming once again.
June 2 - Arabella is crowned at Westminster Abbey.
September 11 - Arabella sends forces to Ireland to adminster martial law and end Tyrone's rebellion.
October 19 - Marriage negotiations form between Cesar, Duke of Vendome, son of Henry IV of France.
December 22 - Arabella sends diplomats to Spain to broker for peace.
January 22, 1604 - The Spanish refuse to meet with Arabella, seeing her as another Protestant threat. the War continues.
July 16 - Arabella sends Walter Raleigh and a small navy towards Spain.
August 20 - With support from the Dutch, Raleigh is able to capture the port of Villagarcia. Upon hearing of this news, Arabella once more sends peace treaties to the Spanish.
November 3 - A Spanish envoy of diplomats arrive in London.
January 12, 1605- After two months of negotiations, the war ends with England annexing a key Spanish port.
February 26, 1606 - Arabella grants the London Company with 10,000 pounds in order to found a settlement in Virginia
~March - A rumoured affair begins between Walter Raleigh and Arabella.
December 25 - The Spanish Company, a Villagarcia-based Anglo-Spanish company like that of the London Company, is given money to facilitate a settlement in America.
June 30, 1607 - Marriage negotiations with Cesar, Duke of Vendome end when a more promising proposal arises. Christian IV, the King of Denmark, has recently become a widower after his wife, Anne Catherine, dies (Separate from her real death in OTL 1612). Similar in age and religion, the privy councillors are eager for Arabella and Christian to marry.
September 1 - Christian IV arrives in England and begins meeting with Arabella.
February 13, 1608 - Bess of Hardwick dies, leaving Arabella mournful, yet not wholefully upset, as their relationship was not always an easy one.
May 31 - The colony of Arabellington is founded in Virginia. 
June 2 
- Arabella and Christian IV marry. Arabella is now Queen of England, Ireland, and Denmark.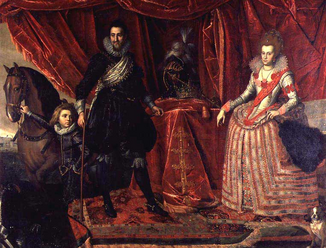 July 4 - Arabella passes The Edict of Villagarcia officially incorporating Villagarcia as an English county.
October 17 - The colony of New London is founded by the Spanish Company in OTL New Jersey.
April 10, 1608 - Henry, Prince of Wales, is born in Whitehall Palace as the first child of Arabella.
April 27 - Christian IV returns to Denmark. He would return to England sporadically over the years.
July 29 - August 29 - Warren's Rebellion Occurs in eastern England, caused by the worsening economic recession and the fact that a large minority of Englishmen were angered by Arabella's marriage to a foreigner. On August 18, John Warren, the leader of the rebellion, is captured and found guilty of treason. He is hanged in Bath on August 21 and his rebellion quickly dies out.
January 18, 1609 - Arabella delivers the first of many speeches to Parliament in preparation for her "Arabellic Reforms", detailing her plan for economic recovery in England.
September 22, 1610 - The first of the Recovery Acts are passed, starting with the Militia Act of 1610 aimed at providing welfare to many of the soldiers and militiamen who fought in Ireland and Spain.
March 15, 1611 - Walter Raleigh is made Lord Villagarcia, first of his office, bestowed upon by Arabella.
December 1, 1612  - The Mayton Plot is discovered by Arabella's spymaster William Goode. The plot, seemingly a reincarnation of the Babington Plot of 1586, aimed to depose the Protestant Queen Arabella and replace her with the Infanta of Spain, Isabella. The mastermind behind the Mayton plot, nineteen year old Martin Mayton, was found guilty of treason and executed at Tower Green, a space at the Tower of London where scaffolds were erected, on December 6.  
August 28, 1613 - Princess Elizabeth is born at Greenwich Palace. While Christian IV was in London at the time, there was some doubt that Elizabeth was his daughter. Soon after Elizabeth's birth, pamphlets circled around London claiming she was the bastard child of Queen Arabella and Walter Raleigh, Lord Villagarcia. One such pamphlet, the Second Bastard Elizabeth, particularly angered Arabella and she ordered the author of the pamphlet, soon found to be Jacob Powleigh, to have all of the fingers stricken from his writing hand.
November 23, 1615 - Arabella convinces Parliament to pass the second of the Recovery Acts, namely the Colonial Expansion and Taxation Act of 1615 which incorporated the colonies of Arabellington and New London as "primary colonies" subject to English law and taxes. The act is passed.
April 30, 1616 - Princess Catherine is born in Whitehall Palace. 
July 16 - While enroute to England, a ship carrying Christian IV sinks off the coast of Ghent. On board was Prince-Elect Christian, the only child born of Christian IV and Anne Catherine. There are no survivors, and the incident becomes known as the Anne Katerina Disaster, named for the eponymous sunken ship. 
August 28 - The Danish government elect Arabella to become Queen of Denmark. Arabella is now Queen of England, Ireland, and Denmark. Denmark at this time also possessed Norway. 
February 27, 1617 - Arabella appoints Walter Raleigh as viceroy in Denmark.
February 2, 1619 - The colony of New England is founded in OTL New York. Most of the colonists were either merchants or poor militiamen unable to find work. 
January 31, 1620 - France, led by Louis XIII, places an embargo on English merchants. Many see this as a precursor to war, as French and Spanish diplomats were made uneasy by the union formed between England and Denmark. 
September 5, 1622 - Arabella attempts to convince the English Parliament and Danish government to accept her Acts of English and Danish Union uniting both countries under a personal union, where both countries would retain their national parliaments and government structure. However, both parliaments reject her measure, with the Danish becoming furious.
December 12 - Robert, the heir to Henry I of Scotland, dies of tuberculosis, and noticing how his daughter is married off to a French nobleman, Arabella makes plans for Princess Catherine to inherit the Scottish throne. Arabella is able to convince her Privy council of not selecting Elizabeth, as she already has made plans for her first two children.
March 25, 1623 - Henry I, already ailing from either pleurisy or blood poisoning, agrees with Arabella's plan. He recognizes Princess Catherine of England as his heir.
August 8 - The Privy Council releases the Succession of Queen Arabella of England, Ireland and Denmark. The document, written by Arabella,  names Prince Henry to be the next King of England and Ireland, Elizabeth to be Queen of Denmark, and Catherine to be Queen of Scotland.
September 25, 1624 - Henry I dies and the throne passes on to eight year old Catherine. She names herself Catherine, Queen of Scots.
November 27 - Mary Stuart, daughter of Henry I, lays claim to the Scottish throne along with her new husband Charles de Berry.
May 13, 1625 - Louis XIII issues an ultimatum towards Arabella. If she does not cede the Scottish throne to Mary Stuart and Charles de Berry, France will declare war upon England with the alliance of Spain.
May 28 - After much consideration, Arabella refuses Louis' ultimatum.
War of the League of Bourbon (1625 - 1628)
June 1, 1625 - England, Ireland and Denmark declare war on France and vice versa, beginning the War of the League of Bourbon.
June 7 - Scotland declares war on France.
October 11 - The English surround the French at Calais and force the troops to desert. 
November 22 - Spain declares war on England, Ireland, Scotland, and Denmark.
November 23 - December 29 - The Spanish defeat the English at Villagarcia, however nearly 18,000 Spanish troops died in a Pyrhhic Victory, whereas most of the English were able to flee.
January 11, 1626 - English and Danish forces attack Spanish garrisons in the Netherlands. 
February 2 - The Dutch ally themselves with the English and declare war on France and Spain.
March 12 - June 1 - The Siege of Villagarcia ends with an English victory and reclaimation of the port.
June 19 - Arabella issues the resumption of the plundering of Spanish ships and ports in the Americas.
November 10 - The English Campaign of France begins, with English, Danish, and Irish troops ordered to march towards Paris.
February 1627 - The Spanish economy begins to collapse. Arabella's plundering of Spanish ports and ships, practiced by Elizabeth years before, proves to be wildly successful, adding great wealth to the economy and royal treasury. The English Campaign of France proves to be somewhat less successful, with only Calais and Picardy under English siege.
July 12 - 14 - A Spanish-French fleet is defeated off the coast by a combination of English and Scottish ships. The battle becomes known as the Battle of Brittany.
July 19 - England is invaded once more after nearly 600 years when a French-Spanish army lands at Exeter. An English-Irish army, lead by Arabella herself, travels to Exeter to face the army. With an almost instant victory, the English expel the French and Spanish from England. Their escaping navy is defeated by the Danish fleet off of the coast of Land's end. These two victories are regarded as among the greatest military victories in English history, on par with Agincourt and the defeat of the Spanish armada at Gravelines.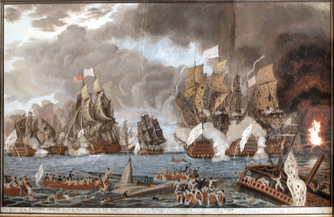 November 28 - French troops surrender Picardy and and eastern Normandy to English forces.
January 1, 1628 - Spain signs a peace treaty with the English and resigns from the war. England annexes land around Villagarcia and sets aside massive amounts of unclaimed land in the Americas for colonization.
February 11 - March 6 - The English surround Paris. After a series of food shortages, the English retreat to Picardy.
May 12 - Unable to support its army and economy, France agrees to a ceasefire.
June 22, 1628 - The Treaty of Rouen occurs. France will cede Picardy, Calais, and parts of Normandy to England, along with several war reparations. Louis XIII agrees and signs the treaty. Delegates from England sign as well. The War of the League of Bourbon ends.
Later Reign of Arabella (1630 - 1640)
June 3, 1630 - Arabella celebrates her fifty fifth birthday. She has reigned England for twenty seven years and inspired the image of her predecessor, Elizabeth I the Virgin Queen, during her rule. The people adore her, however the crippled economy becomes more of a problem than ever. On June 3, Arabella continues her Recovery Acts and passes the Economic Settlement of 1630. The act funded poor houses in London and once more provided welfare for unemployed soldiers and militiamen who fought the Spanish, French, and Irish. The Settlement also allocated much of the money plundered from the Spanish into the royal treasury.
July 3 - Catherine I, Arabella's daughter and Queen of Scotland, marries Puritan nobleman William of Fife.
October 29, 1631 - Walter Raleigh, Lord Villagarcia, dies, leaving Arabella upset. She encourages her court to wear black for fifteen weeks to honor Raleigh.
September 17, 1633 - Princess Elizabeth marries Francis Goode, son of Arabella's Secretary of State and Spymaster William Goode.
January 31, 1634 - William Goode dies at the age of 62. Most of Arabella's Privy Council is composed of younger politicians born at the beginning of Arabella's reign. Her situation is much similar to that of Elizabeth's in the 1590s, however Arabella writes, in a letter to her daughter, that the state of having children provides an eternal comfort which Elizabeth did not have.
May 11 - Catherine of Scotland gives birth to Robert Stuart, named Prince of Edinburgh.
April 9, 1636 - Francis Goode is appointed as the 1st Duke of Copenhagen and elected as viceroy in Denmark.
October 31, 1638 - In her last Parliamentary address, Arabella presents the final of the Recovery Acts, the Irish Commoners Law of 1638 which allocated more wealth towards the Irish in hopes of stimulating the national economy. Despite the benevolent title. much anti-Irish sentiment continues to exist in parliament. The act only passes by a small margin and would only affect Anglo-Irish protestants and do nothing for the native, Catholic Irish.
June 23, 1639 - Princess Elizabeth gives birth to boy, James.
December 1 - Catherine of Scotland gives birth to a girl, Marianne.
May 1, 1640 - Arabella retires to Greenwich palace, where her health rapidly declines. She is most likely suffering from a from of heart disease or possibly breast cancer.
May 16 - Arabella I of England dies at around 10 PM at Greenwich Palace. 32 year old Prince Henry becomes Henry IX of England. He is unmarried and without an heir. Across the North Sea, Elizabeth becomes Queen of Denmark.
1640 - 1683
Reign of Henry IX (1640 - 1644)
May 16, 1640 - Arabella I dies and is succeeded in England by Henry IX and in Denmark by Elizabeth. Henry IX moves from Greenwich Palace and sets up court at Whitehall.
August 18 - Henry orders a royal colony to be founded in OTL North Carolina.
January 6, 1641 - Arabellington, in a dilapidated state, becomes a royal colony under the Viceroy of Francis Goode. Goode now becomes Duke of Copenhagen, and Viceroy in Denmark and Virginia.
March 12 - Francis Goode leaves Denmark and travels to Virginia to oversee colonial business.
April 28 - The crown Colony of New Cumberland is founded in OTL North Carolina.
November 17 - Continuing his mother's Recovery Acts Henry IX writes a series of taxations and laws pertaining to international trade. The Monetary and Trade Acts are passed by Parliament.
February 8, 1642 - Henry begins allocating wealth into the Netherlands.
August 13 - Catherine of Scotland gives birth to a boy, James.
September 22 - An attempted assassination of Henry occurs in London. The perpetrator, Italian Calvinist Johann Boraggio, is found guilty of treason and attempted regicide and hanged.
November 1643 - In November, Henry suffers his first of two smallpox outbreaks. The second will claim his life.
January 13, 1644 - Henry IX quarrels with Parliament over the Monetary and Trade Acts. The quarreling is notable as it represents a change in English politics.
October 21 - Henry retires to Whitehall and it is soon found out he is once more suffering from smallpox.
November 8 - Henry IX dies. His Privy council select Elizabeth of Denmark to be queen.
Reign of Elizabeth II (1644 - 1673)
November 8, 1644 - Elizabeth becomes Elizabeth II of England and Ireland as well as Queen of Denmark.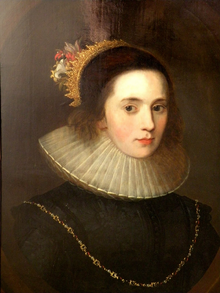 December 12 - Francis Goode leaves Virginia to return to England.
March 31, 1645 - Elizabeth continues Henry IX's act of supporting the Dutch cause. She convinces Parliament to set up a fund for the Netherlands.
June 12 - Francis Goode is made High Prince of England.
March 22, 1646 - Prince Edward-James is born at Greenwich Palace.
April 17 - May 19 - Over the course of a few weeks, Elizabeth's Privy council, led by Spymaster and Secretary of State Jonathan Armen, uncover a series of plots to undermine Elizabeth's rule and government and strengthen the southern nobility. These Rayfield Plots find twenty two nobles guilty of treason. Of them, Elizabeth executes the two masterminds Charles Rayfield of Cornwall and Elizabeth, Duchess of Norfolk. The rest are exiled to Ireland.
January 1647 - Elizabeth begins writing her newest appeal to parliament. She names it the Absolute Succession Act and writes that all those born under a reigning King or Queen are inviolable and equal in the eyes of royal law and God.
March 11 - Elizabeth presents the act to Parliament. The House of Commons immediately heckle the law. The House of Lords had a much more lukewarm response. Regardless, the law is not passed.
May 13 - Despite her failure in parliament, Elizabeth pens a treatise named The Equality of Royalty and Nobility. While this treatise declares that all those born into royalty and nobility are equal, it is only from a religious standpoint. Elizabeth does not make mention of altering property rights or political rights for women. While an important step in the rights of women in society, Elizabeth's treatise is by no means the birth of feminism or equal rights.
December 25 - During a lavish Christmas banquet and celebration, Elizabeth formally presents her son James to the palace and names him her heir.