2004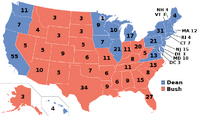 November 2 -
Election results come in. Howard Dean of the Democratic Party wins the election to be the 44th President of the United States. A victory party is held is held is Burlington, Vermont. George Bush concedes defeat.
2005
January 20 - Inauguration Day in Washington DC. President Howard Dean and Vice President John Edwards are sworn in.
2006
August 5 - President Dean signs the SURFACE Act into law, allowing for free universal healthcare for all Americans. Although the majority party of the Democrats supported this act, with endorsements from Al Gore and Bill Clinton, the Republicans strongly opposed the act, saying it would raise the average income tax rate by 60% (it actually raised it by 20%), add trillions to the national debt and send the country into total bankruptcy.
2007
March 18 - The last American troops leave Iraq. Free Presidential elections are held with heavy United Nations oversight. Former Prime Minister Ibrahim al-Jaafari is elected President of Iraq. American President Howard Dean officially congratulates al-Jaafari on his win.
2008
November 4 - Howard Dean wins the Presidential Election against John McCain in a landslide.
2009
July 29 - The ROADWORK Act is signed into law, reopening diplomatic relations with Iran and North Korea. North Korea and Iran welcome the new act, and new embassies are built. However, due to lack of willing nominees to go to North Korea (and for good reason), the embassy is never opened. The nominee for the Iranian ambassadorship is Jamshid Delshad, the mayor of Beverly Hills.
2010
February 21 - With the Sudanese general election nearing, President Dean warns the Sudanese administration that if Omar Al-Bashir wins the election, serious action would be taken by the United States. With the Darfur conflict, the Second Sudanese Civil War, and rampant human rights abuses, Al-Bashir could not win the next election with the low popular support that he had.
April 15 - Omar Al-Bashir and the National Congress win the Sudanese general election by a margin of 20%. The United States denounces the Sudanese administration and calls for Omar Al-Bashir to step down.
June 19 - Economic sanctions are imposed on Sudan by the United States. President Dean again calls for Omar Al-Bashir to step down.
October 2 - After refusing to step down for several months, Howard Dean, with a close approval in congress, gives the order to invade Sudan and topple the regime. Both Democrats and Republicans are very uneasy about this decision, but eventually grow to support it following the eventual free elections and the quick end to the occupation.
2011
June 7 - Darfur is granted independence and the interim president is declared to be Osman Mohammed[1]Yousif Kibir, longtime governor of North Darfur State. Presidential Elections are to be held in 2014.
2012
August 30 - Rick Santorum wins the Republican Nomination for President. His running mate has been announced to be Tim Pawlenty. Critics have said that Rick Santorum's extreme anti-gay and anti-islam stances would severely hurt the Republican Party's chances at winning the election.
September 6 - John Edwards wins the Democratic Nomination for President. His running mate has been announced to be Joe Biden, the Secretary of State during Howard Dean's second term.
October 3 - The first Presidential Debate is held. Rick Santorum's focus on his gay marriage policies and aggressive foreign policy rather than focusing on the economy was said to have further hurt his chances at the presidency.
October 2 - The Vice Presidential Debate is held. Critics have said that this debate has defined both running mates as horrible choices. Newt Gingrich's suggestions for a lower minimum wage and pre-teen labor were said to be terribly regressive. Joe Biden's occasional insults and focus on North Korean diplomacy were criticized, as many Americans view associating with an oppressive police state as an incredibly bad move.
Ad blocker interference detected!
Wikia is a free-to-use site that makes money from advertising. We have a modified experience for viewers using ad blockers

Wikia is not accessible if you've made further modifications. Remove the custom ad blocker rule(s) and the page will load as expected.