The following page is under construction.

Please do not edit or alter this article in any way while this template is active. All unauthorized edits may be reverted on the admin's discretion. Propose any changes to the talk page.
During the 70s and 80s Perez Jimenez's developed a program of cultural development and reformed the education program.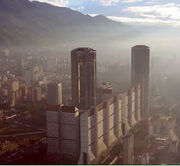 In 1969 Carlos Delfino engineer of the construction Delpre CA submitted the draft to the president of Central Park Centro Simón Bolívar for the construction of an urban development between Lecuna avenues and Bolivar of urbanization El Conde de Caracas.
In 1970 begin to construct the buildings Tacagua, Caroata, Catuche, Tajamar, San Martín, El Tejar Anauco Mohedano and all these eight buildings for residential use with 317 apartments each, a height of 120 meters and 44 floors, these buildings are finished build 1972 While both were built two commercial and office towers known as Central Park Towers, 64 floors each and rising 225 meters, the west tower was completed in 1979 and the East Tower was inaugurated in 1983 (According to official information.) The building Anauco apart-hotel became a 4 star Hilton in 1973 until today.
Within the Central Park complex also houses The Children's Museum of Caracas, The Plenary Hall, 8 conference rooms, a swimming academy, movie theaters, a heliport, A parish center, among others.
In the 1970s, Pedro Antonio Ríos Reyna presented a plan to construct a theater that served as seat of the Venezuela Symphony Orchestra. The Simón Bolivar Center expanded the project so that the center would serve multiple uses. The funds for construction were granted in September 1970, and the architects were Tomás Lugo, Jesus Sandoval, and Dietrich Kunckel. The theater was inaugurated in two phases. The
Jose Felix Ribas room
was inaugurated in February 1976, and then the
Rios Reyna room
and the rest of the complex opened on April 19, 1983 with the name Teresa Carreño.

But the biggest of all this projects would be the Caracas Tower, builded between 1973-1976, an opened on December 2, 1976, as the tallest building of the world until 1998. It has 451 mt. tall, and was designed by Oscar Niemeyer who also desing Brasilia and the Caracas Modern Art Museum in 1955 and builded in 1960.
The drop in oil prices in the 1980's lead to some difficulties. The drop in oil prices results in an increase in unemployment and some higher prices, but Perez Jimenez manages to alivate the pain with more government sponsored work. After this 1 dollar was 7,30 Bolivares.
See Also
Ad blocker interference detected!
Wikia is a free-to-use site that makes money from advertising. We have a modified experience for viewers using ad blockers

Wikia is not accessible if you've made further modifications. Remove the custom ad blocker rule(s) and the page will load as expected.