TIME WARP
A time warp has been created, choose your empire, and guide them to victory!
Soviet Union
Incans
Amazonians
Empire of the Rising Sun
Indochina: Giant Flying Llama
Empire of the Orient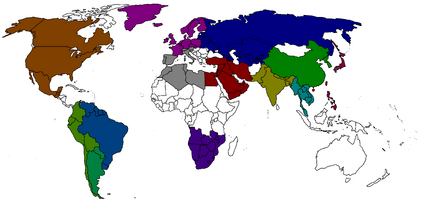 Persia
Rome
Viking -
Eric von Schweetz T C IM]

Aztec
Brazilian
Argentinian
Zulu
Indian Empire
Rules
1.       No implausabilities
2.       Mods get first pick, then everyone else
3.       Bold is for mods, italics for over 500 edits, normal for everyone
4.       Turns start at 0000 GST
5.       Next turn at 0815 GST
6.       No swearing
7.       All scores settled by the mods
Game starts on the 1st of November
All white countries are free game for invasion, and if you are unable to make 3 turns in a row tell me please, or your territories are split!
We use www.random.org as an algorithm, and the Spread of Communism Algorithm for boosts.
Mods, Other Chief Roles
GiantFlyingLlama: Mod, Mapmaker
THE GAME!
Ad blocker interference detected!
Wikia is a free-to-use site that makes money from advertising. We have a modified experience for viewers using ad blockers

Wikia is not accessible if you've made further modifications. Remove the custom ad blocker rule(s) and the page will load as expected.