Thuringen (Principia Moderni IV Map Game)
Talk

0
Share
Thuringen is a nation of the
HRE
. 
Thuringen
Timeline: Principia Moderni IV (Map Game)

| | |
| --- | --- |
| | |
| Flag | Coat of Arms |

Capital
(and largest city)
Eurfurt
Other cities
Wiesbaden
Language
German
Religion
Catholic
Government
Monarchy
Duke
Population
2.0 Million 
Currency
Thuringen coins
History
1400-1500
In 1421 the military sends its troops to fight in the crusade against the Ottoman empire. The crusades end in 1424 with us wining Constantinople back from the Ottomans. A recession happens in 1439. In 1442 we declared war on Hesse. A large chunk of Hesse is taken in our winnings in 1443. In 1452 we declare war on Bohemia. 1454 we occupy of Bohemian land and that forces dislodges the Czech control over the Holy Roman Empire. We are now in a PU with Anhalt. The economy goes back the normal in 1454. The Treaty of Cologne officially ends the war against Bohemia. We destroy Hesse in 1463 in a war. In 1466 Art that captures the beauty and mystery of the world and becomes popular. The Renaissance begin in 1467 in our nation.
Government
The Duke is the head of the nation
Good
Pomerania (Alliance)
Brandenburg-Luxembourg (Trade)
Anhalt (Personal Union)
Neutral
Evil
Military
Culture
Vassals/Colonies
Maps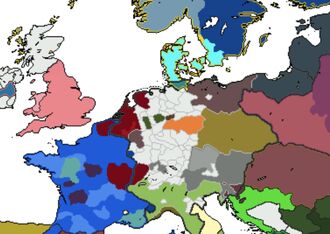 Ad blocker interference detected!
Wikia is a free-to-use site that makes money from advertising. We have a modified experience for viewers using ad blockers

Wikia is not accessible if you've made further modifications. Remove the custom ad blocker rule(s) and the page will load as expected.