This NotLAH page is a Proposal.

It has not been ratified and is therefore not yet a part of the NotLAH Timeline. You are welcome to correct errors and/or comment at the Talk Page. If you add this label to an article, please do not forget to make mention of it on the main discussion page for the Timeline.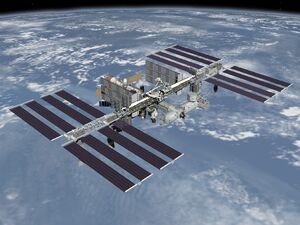 NB: THIS IS A NIGHT OF THE LIVING MAPPING PAGE
THOR'S HAMMER is a brand new space station which is the very latest in space design. It is a slow orbiting missile platform that allows the controller to target anywhere in the world with maximum impact.
Although it is designed for infantry it can be used at great effect for destroying small targets and moving vehicles by surprise. It also has 2 R-11 Zemlya missiles and 1 R-17 Elbrus. It has 5 KH-23 air-to-surface missiles and 3 Bristol Bloodhound missiles. <p class="MsoNormal" style="margin: 0cm 0cm 10pt">Under Construction on the Falklands. <p class="MsoNormal" style="margin: 0cm 0cm 10pt">Cancelled until further notice
Marketing
Non UR asking prices begin at £300,000,000
Basic Platform (no weapons yet installed. Craft does have the capability to have them)- £300,000,000
Armed Attack Platform ( Light attack weapons and tracking radar)- £350,000,000
Fortress Defence Platform ( Defensive weapons and radar systems)- £350,000,000
Standard Platform ( Defensive and Offensive)- £400,000,000
Ad blocker interference detected!
Wikia is a free-to-use site that makes money from advertising. We have a modified experience for viewers using ad blockers

Wikia is not accessible if you've made further modifications. Remove the custom ad blocker rule(s) and the page will load as expected.