Ad blocker interference detected!
Wikia is a free-to-use site that makes money from advertising. We have a modified experience for viewers using ad blockers

Wikia is not accessible if you've made further modifications. Remove the custom ad blocker rule(s) and the page will load as expected.
Theodore V (Theodore Frederick Thomas Edward Charles Elliott William; born 5 June 1951) is the reigning Emperor of the Cygnians. He succeeded to the throne upon the death of his father Ellory I on 4 December 1996, and was crowned on the traditional coronation day of 5 May in 1997.
Theodore was born in Swanstone to the Emperor and Empress of the Cygnians, Ellory I and Empress Victoria, and is the eldest of their three children. He was educated at All Saints' College, one of the several elite private Church of Cygnia schools in Swanstone. He was officially named heir apparent on 5 June 1957, on his sixth birthday, when he was formally invested with the Dukedom of Augusta, the traditional title of the heir to the throne. Theodore enlisted in the Imperial Navy upon graduating from school in 1968, and rose to the rank of Captain, with command of the CMS Fremantle, one of the Navy's newest destroyers at the time. In 1975 Theodore married Elizabeth Cooke-Lyon, with whom he has two children, Alexander and Danielle.
Theodore's many historic visits and meetings include a state visit to Australie and reciprocal visits to and from the High Presbyter of Mylapore, Thomas III. Other times of personal significance have included the births and marriages of his children and grandchildren, his coronation in 1997, and the celebration of milestones such as his tenth anniversary in 2007. Public support for him and the monarchy have remained consistently high since his coronation.
Early life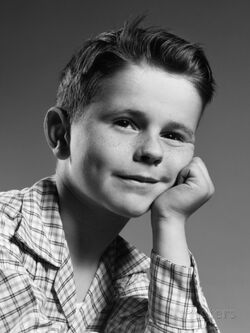 Theodore was born at 05:26 (WST) on 5 June 1951, five years into the reign of his father, Ellory I, who just eight years earlier had successfully led a revolution to overthrow the dictatorial Republican regime under Marshal Franklin Jonathan Heller. His mother, Victoria Geraldton was the youngest daughter of a rural family with whom his father had grown up while in hiding during the rule of the Socialists.
Theodore was delivered naturally in the 1st Maternity Ward in Swanstone Central Hospital in Carine, Swanstone. He was baptised by the Church of Cygnia Archbishop of Swanstone, George Frederick Lang, in the private chapel of the Imperial Palace on 8 July, and named Theodore, a traditional name for Cygnian emperors, and also particularly in tribute to Theodore IV, who was murdered along with much of Ellory's family during the Palace massacre in 1933. He was also given the names Frederick after his maternal uncle, Thomas after his maternal grandfather, Oliver after his paternal uncle (who had died during the massacre at the age of 13), Charles after his father's adoptive father Charles Kennedy, Elliott after his father's alias adopted during the Republic era to conceal his identity, and William was a personal choice of his parents. Called "Theo" by his family, he was cherished by his grandparents, including the Kennedys who had raised Ellory following the massacre and his retreat into hiding.
Theodore's two sisters, Louise and Abigail, were both born in 1954 as twins. The three siblings were all educated at All Saints' College, where he became proficient in Japanese, Latin and Greek. An unauthorised biography of Theodore's early life, titled Wee Prince Theo, was published by Francis Oliver Baker, one of the Imperial Palace caretakers, in 1978, much to the dismay of the Imperial family. The book describes Theodore's love for dogs, his orderliness, and his attitude of responsibility. Others echoed such observations: Chancellor Otto Humphrey described Theodore when he was two as "a character. He has an air of authority and reflectiveness astonishing in an infant." His father's childhood friend and adoptive brother, Richard Kennedy, described the young Theodore as "a happy, excitable little boy, but deep down sensible and well-behaved."
Heir apparent
When Theodore was six years old, he was formally invested with the Dukedom of Augusta, a title traditionally reserved for the heir apparent. As such, Theodore was officially declared to be Ellory I's heir to the throne.
Theodore received private tuition in constitutional history from Daniel Martin, then a professor at the Cygnian Imperial University in Swanstone. Besides the languages he learnt at school, he was also taught French by a multitude of native speakers hired by the Imperial family. He was enrolled in the Cygnian Boy Scouts as a Joey Scout in 1958. He later became a full Scout and then a Venturer Scout at age 16.
Military service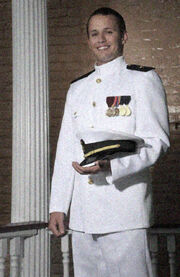 When Theodore graduated from All Saints' College in 1968 at age 17, he enlisted in the Cygnian Imperial Navy, becoming an ensign in 1971. His first deployment was on the CMS Campbell, which toured the world from 1971 to 1973. During that time the Campbell became involved in a battle against pirates. Theodore was injured during the fighting, and for his bravery he earned a promotion and a Star of Merit. By the time the Campbell returned to port in Swanstone, Theodore had become a Lieutenant. He enrolled at the Cygnian Imperial University, taking a course in Civil Engineering, and married his university friend Elizabeth Cooke-Lyon in 1979. His first child, Alexander, was born when Theodore was in active service in 1981.
Theodore rapidly climbed the chain of command, and saw active duty from 1980—4 in the [insert conflict here], for which he received the Medal for Honourable Service from Imperial Secretary for the Navy John S. Lockerby in 1981. He became a Captain in 1982, and received a command post on the newly built CMS Fremantle. The Fremantle was deployed to the same warzone, returning to Swanstone without major incident in the summer of 1984. Upon returning, Theodore relinquished his command and took on administration work at the CMNB Mayweather naval base from January 1985 to December 1986.
In 1987, Theodore and Elizabeth embarked on their first overseas tour together with five-year-old Alexander when the family travelled to Estibordo, meeting with Estibordan leaders and members of the public. During the tour, Theodore pledged "to work ceaselessly to improve relations between the Empire and Estibordo, and to strengthen the bonds between us, brothers and sisters on this great continent."
Marriage and family
Reign
Abdication announcement
On 18 September 2016, Theodore V announced on public television and radio his intention to abdicate. This declaration was aired on all Cygnian television channels and radio stations, and was also printed in all Cygnian newspapers.
"
As you all know, the twenty-first anniversary of my acceptance of the responsibilities of the Cygnian throne is fast approaching. It will be a major milestone of my life and my career, and I want to thank each and every person who has helped me on this journey, and to each and every Cygnian for their support and unwavering loyalty.

This particular anniversary coincides with my decision, after some years of deliberation, to resign from my office.

I believe that it is a good time to take this step.

I have always considered it an extraordinary privilege and the highest of honours to dedicate my life to serving my people and my nation in accordance to my responsibilities as Emperor of the Cygnians. This task, which I have always seen as a great gift from the Cygnian people and from God, over the years has given me a lot of satisfaction and fulfilment.

It has always been inspiring to me, to share in both the grievances of our people, and times of joy and national pride. I am forever humbled by your unwavering loyalty to me and my family, to your fellow Cygnians, and to the Empire.

This decision is based not on a belief that I am no longer fit to serve Cygnia in my current capacity. On the contrary, I intend to devote my remaining years on this Earth to this country. However, I do believe that it is now time for the next generation to lead the way into the new decade and beyond. It will be with great confidence and pride that I on the 5th May next year, will pass my duties and the Imperial office to my son, the Duke of Augusta. I am convinced that he and his wife Princess Catherine are fully prepared for their future role and the responsibilities they will inherit along with it. I know that they will serve the Empire with distinction, with devotion, and with honour. They will faithfully serve you, the people of Cygnia, and loyally defend this country and her constitution. They will, with their many talents and abilities, give their all and their best, and continue in my stead to lead this Empire.

As I have previously said, my abdication does not mean that I am stepping back into obscurity and a quiet retirement. I hold the hope that you will continue to permit me to serve you in other ways.

I am deeply grateful, and forever thankful, for your faith and trust in me, and for the many wonderful and unforgettable years that you have allowed me to serve as your Emperor. Thank you.

"
Public perception and character
Titles, styles, honours and arms
Titles and styles
1951 — 1957: His Imperial Highness The Prince Theodore
1957 — 1997: His Imperial Highness The Duke of Augusta
1997 — present: His Imperial Majesty The Emperor

His full title is His Imperial Majesty Theodore the Fifth, by the Grace of the People and the Constitution, Emperor of the Cygnians, Commander-in-Chief of the Cygnian Imperial Armed Forces, Head of the House of Stuart-Campbell, Defender of Faith.
His full style in Latin is THEODORUS V POPULI ET CONSTITUTII GRATIA IMPERATOR CYGNORUM DUCTOR MILITUM IMPERIALE PRINCEPS DOMUS STUARTUS-CAMPBELLUS FIDEI DEFENSOR
1968 — 1971: Cadet, Imperial Naval Academy
1971 — 1972: Ensign, CMS Campbell
1972 — 1973: Sub-Lieutenant, CMS Campbell
1973 — 1978: Lieutenant
1978 — 1979: Lieutenant, CMS Brazen
1979 — 1981: Lieutenant-Commander, CMS Resolute
1981 — 1982: Commander, CMS Resolute
1982 — 1984: Captain, CMS Fremantle
1984 — 1986: Captain, CMNB Mayweather
1986 — 1992: Honorary Rear Admiral
1992 — 1996: Honorary Vice Admiral
1996 — present: Commander-in-Chief of the Cygnian Imperial Armed Forces
Honours
Issue
Ancestry