Theodore Roosevelt

31st President of the United States
In office:

March 4, 1913 - January 6, 1919

Preceded by:
William Howard Taft
Succeeded by:
Charles Evans Hughes
29th President of the United States
In office:

March 4, 1901 - March 4, 1909

Preceded by:
Grover Cleveland
Succeeded by:
William Howard Taft
Governor of New York
In office:

January 1, 1899 - December 31, 1900

Preceded by:
Unknown
Succeeded by:
Unknown
Biography
Born:

October 27 1858, New York City, New York

Died
January 6 1919, New York City, New York
Nationality:
American
Political party:
Republican
Spouse:

Alice Lee (1880 - 1884)

Edith Carrow (1884 - 1919)

Children:
Alice, Theodore, Kermit, Ethel, Archie, Quentin
Alma mater:

Harvard University

Columbia University

Occupation:
Soldier, Writer, Businessman, Politician
Religion:
Non-denominational Christian
Theodore Roosevelt (October 27th 1858 - January 6th 1919) was an American politician who served as the 29th President of the United States (1901-1909) and the 31st President of the United States (1913-1919), he was the first President since Andrew Jackson to win a second consecutive term, and the only president to be elected to serve more than two terms in office.
Roosevelt's first period in office was dominated by both progressive social reforms and an expansionist foreign policy. However, his second term largely revolved around the Great War, and he died shortly after the war's conclusion.
He was held in high regard by many Americans on both sides of the political spectrum.
Early Life
Early Political Career
1900 Presidential Election
Main Article: United States presidential election, 1900

Few had expected Roosevelt to be a future President. He was only 31 at the beginning of 1900, and had only served as Governor of New York for one term. The main factor contributing to his success at the 1900 Republican Convention was the absence of any other strong candidate. Former President Harrison refused any attempt to draft him, Thomas Brackett Reed had resigned over the issue of War with Spain, Levi Morton was 75 and considered too old for the Presidency, and other potential candidates lacked the nationwide publicity (and popularity) of Roosevelt.
Roosevelt's main opponent for the nomination was Ohio Senator Mark Hanna. Hanna was a more orthodox Republican than Roosevelt, and had the support of most of the party bosses. On the first ballot Roosevelt led, with Hanna second and  the rest of the votes dispersed amongst an array of lesser known candidates. It took four more ballots (and a lot of careful negotiating) before Roosevelt was finally nominated.
Roosevelt delivered a stirring speech to the convention, promising a "Square Deal" for the American people, and to restore national honour and pride.
Roosevelt initially asked Mark Hanna to be his running mate, but he refused. Roosevelt then turned to former Ohio Governor Asa S. Bushnell, a trust busting reformer like Roosevelt, who would also help carry his all important home state of Ohio.
Although there were no opinion polls in 1900, there was a clear shift in public opinion in Roosevelt's favour. This was partly due to the disastrous Democratic Convention, where an attempt by conservative Democrats to draft President Cleveland for a third term fell flat, and delegates were bitterly divided between his anointed successor, Vice President Adlai Stevenson, and the populist former congressman from Nebraska, William Jennings Bryan.
First Term (1901 - 1905)
1904 Presidential Election
Main Article: United States presidential election, 1904
Roosevelt was easily renominated, facing little internal opposition following the death of Senator Hanna. Senator Charles W. Fairbanks of Indiana was chosen as his new running mate, he was not Roosevelt's ideal running mate but he saw the need to make a compromise for the sake of party unity.
Second Term (1905 - 1909)
Return to Private Life
After much debate Roosevelt decided not to run for a third term in 1908, instead supporting his Secretary of Defense, William Howard Taft as his successor.
1912 Presidential Election
Main Article: United States presidential election, 1912
Roosevelt decided to challenge Taft for the Republican nomination. He beat Taft in a landslide during the primaries - the first primary campaign in US history - and even succeeded in beating Taft in his home state of Ohio. However, Taft still refused to drop out of the race, attempting to derail Roosevelt's momentum at the Republican Convention.
Roosevelt supported Progressive Californian Governor Hiram Johnson for the Vice Presidential nomination, despite a Taftite attempt to replace him with former Vice President Charles W. Fairbanks.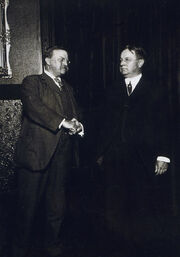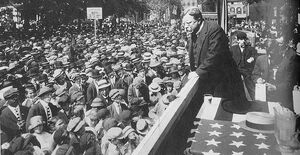 Third Term (1913 - 1917)
During the first months of his third term Roosevelt concentrated on getting his ambitious progressive manifesto through Congress. These included constitutional amendments introducing the direct election of senators, women's suffrage and a federal income tax.
On June 28th 1914 Archduke Franz Ferdinand, the heir to the throne of Austria-Hungary, was assassinated in Sarajevo.
1916 Presidential Election
Main Article: United States presidential election, 1916
Unlike 1912 Roosevelt was now not only the front runner, but almost certain of renomination. Ironically his strongest support came from more conservative Republicans, and his main (and only serious) opponent for the nomination was anti-war progressive Senator Robert M. LaFollette. LaFollete was a tough opponent. However, Roosevelt's popularity, and the unpopularity of LaFollete's stance on the war led to Roosevelt winning every primary, even in LaFollete's home state of Wisconsin.
The main question facing the Republican Party in 1916 was who was to accompany Roosevelt on the Republican ticket. Johnson and Roosevelt had fallen out bitterly over the conduct of the war, and TR had decided he didn't want him to run on the ticket with him for another term.
Several Vice Presidential candidates were considered, including Secretary of State Elihu Root, Senator Gifford Pinchot, General Leonard Wood and Senator Henry Cabot Lodge. Roosevelt ultimately chose Supreme Court Justice and former New York Governor Charles Evans Hughes, whom he believed able to carry out executive duties whilst he himself was overseas.
Fourth Term (1917 - 1919)
In March 1917, shortly after his third inauguration, Roosevelt left on a tour of the front in Europe aboard the USS New York. He was well received by the troops, and his rabble-rousing addresses were considered reminiscent of those of his 1912 campaign. The trip did much to help morale amongst soldiers, but it did damage Roosevelt's health.
Only months before his death Roosevelt had been making plans about his own political future. He had stated privately to friends whilst on the campaign in 1916 that he wouldn't seek another term unless "The American people think I'm the only man capable of leading us into the next decade", but after the rather disappointing congressional elections of November 1918 he did mention that he would probably "bow out with grace" at the end of his term. It was unclear exactly who Roosevelt intended to be his ultimate political successor, with his supporters splitting at the 1920 Republican Convention, and contributing to the nomination of conservative Senator Warren G. Harding.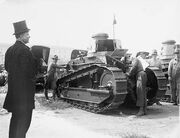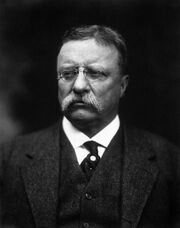 Death and Funeral
Roosevelt's health declined through 1918, with the war taking its toll on his previously robust body. He was also known to have been suffering from lingering malaria from his trip to the amazon. Roosevelt died on January 6 1919 at 4:00 am. Vice President Hughes - who had been alerted to Roosevelt's rapidly declining physical state earlier that day, and was staying nearby - was sworn in as President two hours later.
He was accorded a state funeral, and lay in state in the Capitol building.
Legacy
Roosevelt remains a very popular political figure, with his jingoism and patriotism appealing to conservatives and his social reforms and progressive ideas appealing to liberals. He consistently ranks high in opinion polls, and in 2000 was voted the greatest American of the 20th century.
Ad blocker interference detected!
Wikia is a free-to-use site that makes money from advertising. We have a modified experience for viewers using ad blockers

Wikia is not accessible if you've made further modifications. Remove the custom ad blocker rule(s) and the page will load as expected.