Theodore II of Cygnia (Albert Alexander Theodore; 2 June 1828 — 6 February 1885) was the 4th Emperor of Cygnia from the death of his father Alexander II in 1840 until his own in 1885 — he was the second-longest-reigning Emperor in Cygnian history, after his great-grandson, Ellory I.
Theodore II's reign began when he was but 12 years old. His father, Alexander II, died suddenly in 1840 after a short illness. As a result of his minority, during the first six years of Theodore's reign, Olivia, Princess Imperial ruled in his name as Regent. After coming of age in 1846, his constitutional powers were returned to him as mandated in the Regency Acts, and he was officially crowned on 5 May the next year.
Theodore married his maternal second cousin, Mary Frances Tennyson, in 1847, when he was 19, and she was 16. Their five children married into royal and noble families across Europe and in Mexico, tying them together and earning him the sobriquet "the Grandfather of Royalty". After Empress Mary's death in 1863, Theodore plunged into deep mourning and avoided public appearances for three years. As a result of his seclusion, republicanism temporarily gained strength, but in the latter half of his reign his popularity recovered. His Silver Jubilee was a time of public celebration.
Theodore II ruled during an era of great industrial, cultural, political, scientific and military change, and led Cygnia through the First World War against France, the Netherlands and Australie; his reign was also marked by a great expansion of the Cygnian Empire.
Early life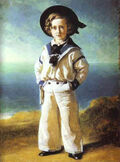 Theodore was born in the early hours of the morning on 2 June 1828 at Ellingham Palace, the second child and first son of Emperor Alexander II and Empress Josephine. He had one elder sibling, Olivia, but as male-preference primogeniture was in effect at the time, Theodore superseded her in the line of succession, and became the heir to the Crown. He was baptised as Albert Alexander Theodore in the Ellingham Palace Chapel on 3 July 1828. His godparents were his paternal uncles, the Duke of Adelaide and Prince Henry (later Duke of Liverpool), and his paternal aunt, Princess Augusta, then hereditary duchess of Brunswick-Wolfenbüttel.
Prince Albert spent most of his early life at Ellingham, where he was educated by private tutors. When he was twelve, his father suddenly fell ill with tuberculosis and died on 6 October 1840. Albert was still too young to inherit the throne, and was forbidden to do so by the Regency Acts. Pursuant to the same legislation, his elder sister, Princess Olivia, was appointed Regent of Cygnia to fulfil the constitutional requirements of the monarch until Albert came of age.
At the age of thirteen, he joined the Imperial Navy as a midshipman. His experiences in the navy seem to have been little different from those of other midshipmen, though in contrast to other sailors he was accompanied on board ships by a tutor. He did his share of the cooking and got arrested with his shipmates after a drunken brawl in Saigon; he was hastily released from custody after his identity became known.
Early reign
Marriage
Widowhood
Later years
Legacy
Titles, styles, and arms
Titles and styles
2 June 1828 – 2 June 1838: His Imperial Highness Prince Albert Alexander Theodore of Cygnia
2 June 1838 – 6 October 1840: His Imperial Highness The Duke of Augusta
6 October 1840 – 6 February 1885: His Imperial Majesty The Emperor
Throughout his reign, the Emperor's full style and title were: "His Imperial Majesty Theodore the Second, by the Grace of God and the Constitution, of the Empire of Cygnia and Her Realms and Territories Beyond the Seas Emperor, Commander-in-Chief of the Cygnian Imperial Armed Forces, Head of the House of Stuart-Campbell, Defender of the Faith."
Arms
As Emperor, Theodore II used the imperial coat of arms of Cygnia.
Issue
Name
Birth
Death
Spouse and children
Victoria, Princess Imperial
later German Empress and Queen of Prussia
21 November 1849
5 August 1910
Married 1867, Frederick, Crown Prince of Germany and Prussia later Frederick III, German Emperor and King of Prussia (1831 – 1888);
4 sons, 4 daughters (including Wilhelm II, German Emperor and King of Prussia and Sophia, Queen of the Hellenes)
Princess Alice
later Grand Duchess of Hesse and by Rhine
25 April 1852
14 December 1884
Married 1870, Louis IV, Grand Duke of Hesse and by Rhine (1837 – 1892);
2 sons, 5 daughters (including Alix, Empress of Russia)
Prince Theodore, Duke of Augusta,
later Emperor Theodore III of Cygnia
24 March 1855
2 August 1928
Married 1884, Princess Alexis of Spain (1862 – 1934);
1 son, 1 daughter (including Theodore IV of Cygnia)
Princess Helena
later Empress of Mexico
25 May 1856
9 June 1933
Married 1876, Agustín, Prince Imperial of Mexico later Emperor Agustín III of Mexico (1857 – 1930);
3 sons, 1 daughter (including Felipe II of Mexico)
Princess Louise
later Princess Henry of Battenberg
14 April 1857
26 October 1944
Married 1885, Prince Henry of Battenberg (1858 – 1896); 3 sons, 1 daughter (including Victoria Eugenie, Queen of Spain)
Ad blocker interference detected!
Wikia is a free-to-use site that makes money from advertising. We have a modified experience for viewers using ad blockers

Wikia is not accessible if you've made further modifications. Remove the custom ad blocker rule(s) and the page will load as expected.