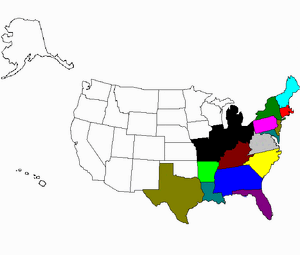 When The constitutional convention starts representatives from each state come to discuss a way to revise the Articles of Confederation. They come out with a good revised version of the Articles of Confederation. Years after that moment the states become countries because of the freedom the Articles of Confederation had given them. Twenty-eight states become independent countries and live side by side in a not so friendly world. All twenty-eight countries have an alliance with France.
Content
Timeline (Fourteen Countries of America)
Countries (Fourteen Countries of America)
Delaware is located on the Atlantic coast. It was the first state to become a country. It declared itself a country on December 6th of 1846. Its capital is Dover. Delaware is currently run by President James Donnagan and his senate of 24 representatives. Delaware is currently in the New England alliance and shares strong ties with New Jersey.
Delaware seceded from the US one year after Texas joined.
The name Delaware comes from the name of Sir Thomas West, Baron La Warr. He was the English governor of Virginia in Colonial times.
When Delaware seceded the United States of America was crumbling. The central government couldn't get enough money out of the states because the states refused to pay more than they saw necessary. During wars the U.S went into great debt and would occasionally not have enough soldiers supporting them. Delaware seeing that the U.S was crumbling declared independence at a council of Delegates from all twenty eight states. The council is known as the exclamation council because of the remark received from the Delegates.
When Delaware seceded it had to come up with its own type of government. Twenty-four representatives met together and decided to form a, more stable, republic, just like France. The first President of Delaware was Thomas Stockton
The people of Massachusetts and Rhode island united together as South New England and seceded from the crumbling union of America. It is located on the west Atlantic coast. It declared itself a country on January 1, 1847. South New England is currently run directly by the people through extensive polls.
South New England was at one time part of a unified New England country.
Kentennessee is the combined areas of Kentucky and Tennessee.
United Illinois was the last state to secede the country and form its own republic. At the end of collapsing of America the states Michigan, Ohio, Missouri, Indiana, and Illinois joined together and formed a central government in Chicago. For seven weeks they got together and discussed problems occurring in America and finally decided to secede. They changed the name of the midwest from the United States of America to United Illinois because their central government was in Chicago. Currently United Illinois controls the territory of Illinois, Wisconsin, Southern Minnesota, Southern Indiana, Ohio, East Iowa, South South Dakota, and Missouri. A civil war had emerged only recently after the formation of the union and Northern Indiana, Northern Minnesota, and Michigan formed their own country.
United Illinois controls three of the great lakes, Lake Michigan, Lake Superior, and Lake Erie. They once went to war against New York over Lake Ontario. They won the war, but later on gave Lake Ontario back to New York as a peace gift. United Illinois has the best transportation throughout the entire America and is an industrial and scientific powerhouse.
Ad blocker interference detected!
Wikia is a free-to-use site that makes money from advertising. We have a modified experience for viewers using ad blockers

Wikia is not accessible if you've made further modifications. Remove the custom ad blocker rule(s) and the page will load as expected.