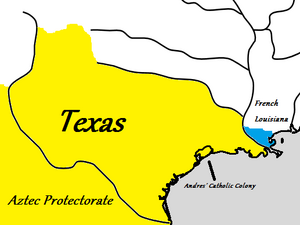 Nominated for deletion

This page has been nominated for deletion, reason given: Page is no longer needed If the author of this article shows no interest in improving his AltHist to the required quality demands this article will be deleted.
Regards, Foxstar75
I have moved this page's content to Spanish Mexico; I am trying to categorize my alt history better
When Protestism was introduced in Europe, religious instability and violent uprisings occurred. This was not different in Spain, who even though was 97% Catholic, had religious minorities.
The Penal Colony
Treating Protestants and Muslims as criminals, the Spanish Government made attempts to remove them. In 1543, King Juan Carlos I, son of the late King Alfonso V of Portugal (died sick) and the Queen Mother Isabella I of Castile, gave the Duke of Galicia's second son Andres a charter to colonize land north of the Rio Grande and west of the Mississippi. At first, the colony grew plump with Catholics, however the colony was running out of money. The
West Indies Trade Company
, who helped set up the new colony, was near bankrupt. Turing to the monarchy as his last hope Andres pleaded for funding. King Juan Carlos I accepted, but only because he had a problem himself. As religious violence kept stirring up the country was running out of suitable prisons to keep "evil" heretics and heathens. Andres would resentfully allow Spanish Protestants and Muslims to come to the new colony, which was named Texas after the native people in the region. Texas grew quite large, and today the area has a great mix of religions, including future Hindus that would come from India seeking work and African slaves brought there against their will.
Ad blocker interference detected!
Wikia is a free-to-use site that makes money from advertising. We have a modified experience for viewers using ad blockers

Wikia is not accessible if you've made further modifications. Remove the custom ad blocker rule(s) and the page will load as expected.