The Tank Attack of San Diego is an unusual rampage that took place in 1995. Not much damage was done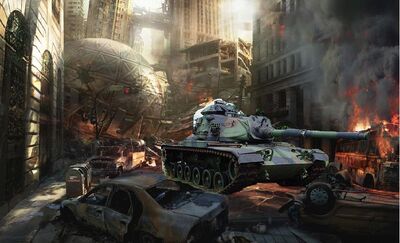 partially due to the fact that the cannon on the tank had no ammo in it. But what if it went differently? Here's how it would be!
The Tank Massacre of San Diego is a mass murder rampage that took place in 1995. It is the worst mass murder done by a single person in American history. A man named Shawn Nelson stole a M60A3 army tank that was fully loaded and used it to destroy Downtown San Diego. 789 people died in the attack.
Prior to the rampage
This is real information from Wikipedia. Nelson was hospitalized in 1990 for neck and back injuries from a motorcycle accident. He sued the hospital for $1.6 million citing negligence, assault, battery and false imprisonment. A superior court judge dismissed the case, and the hospital counter-sued for $6,640 in medical fees and legal expenses. Nelson claimed that he was forced to be treated without his consent. His wife of six years filed for divorce against him in 1991, and both of his parents died of cancer in 1992. Scott Nelson, Shawn's brother, said that Shawn became addicted to methamphetamine in the few years prior to the incident. His neighbors complained to authorities of Shawn yelling at his roommate at night. Nelson then began to exhibit unusual behavior. On one occasion, he dug a hole 15 feet (4.6 m) deep in his backyard in an attempt to mine for gold. In February 1995, he filed a notice informing the county of his plans to mine bedrock in his backyard, even though he was not required to because his backyard was private property. Nelson's fishing friend, Carson Honings, referred to the mine shaft as Shawn's "new hobby". In April, he filed two damage claims against the city totaling $2,000,000. One of them was for police negligence, and another for false arrest. Nelson's neck and back problems, combined with the theft of plumbing equipment from his truck, effectively halted his business. With no income, his utilities were cut off and his house was in foreclosure. In April 1995, his live-in girlfriend died of a drug overdose. His brother, Scott, said of him, "My brother was a good man. He'd help anybody. He just couldn't help himself."
Beginning of the Tank Rampage
This is where the different version happens. According to San Diego police, the week before his tank rampage Nelson told a friend that he was thinking of committing suicide, and the following weekend, told a friend that "Oklahoma was good stuff," in apparent reference to the Oklahoma City bombing which happened about a month before. Whether Nelson condoned the attack or simply meant that he enjoyed the drama is not clear. Police did not believe Nelson had any connection with the bombing or with a terrorist group. At dusk on Thursday, May 18, 1995, Nelson drove his Chevrolet van to the California Army National Guard Armory in the Kearny Mesa neighborhood of San Diego. Although the gate to the vehicle yard was usually locked after 5:00 p.m.,[citation needed] employees at the armory were working late, and left the gate open. The vehicle yard was completely deserted. Nelson likely used a crowbar to break open the tank hatches. The tanks started with a push button and did not require an ignition key. The first two tanks he broke into would not start. As he lowered himself into the third tank, a 57-ton M60A3, he was finally noticed by a Guardsman, who approached the tank. The tank started and flattened the Guardsman, killing him. Then, Shawn stole ammunition for the cannon and loaded it into the tank. Then, he set out to destroy San Diego.
The Tank arrives in San Diego
At 9:15 AM, Shawn finally arrived in the suburbs of San Diego and ran amok. He used every piece of weaponry on the tank. Shawn fired at everything in his path. He demolished houses, causing people to run for their lives. He blew up oncoming cars, and fired at businesses and houses in the area, causing them to explode and starting multiple fires. Police finally arrived on the scene at 9:23 AM, but they were no match against the 50-ton tank. Shawn crushed several police cars, and ran over several officers. Shawn finally made it onto the highway and fired at the support beams of the highway, causing the highway to collapse and send people in their cars falling to their deaths. At least 64 people died in the suburbs alone. At exactly 9:45 AM, the tank finally arrived at the downtown area of San Diego. Shawn smashed through traffic using his tank, and fired at many buildings in the city, causing enormous destruction. The SWAT team finally arrived and even they couldn't stop him. Shawn blew up much of the SWAT team. The entire downtown area was completely destroyed. It was only until Shawn's tank finally ran out of ammo and the tank ran out of fuel that Shawn's rampage was finally stopped. Shawn was then given the death penalty.
Aftermath
The rampage resulted in 789 deaths, and 14,000 injuries, and $120,000,000,000 in total destruction. It was the worst mass murder by a single person in history. The city of San Diego was finally rebuilt completely in 2003. On the 10th anniversary of the attack, a memorial for the victims of the attack was built.
Ad blocker interference detected!
Wikia is a free-to-use site that makes money from advertising. We have a modified experience for viewers using ad blockers

Wikia is not accessible if you've made further modifications. Remove the custom ad blocker rule(s) and the page will load as expected.