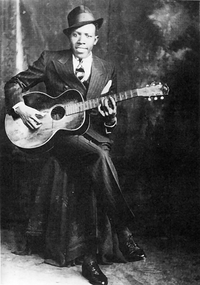 In OTL, Robert Johnson was arguably the greatest Blues musician and guitarist of all time; as well as the Grandfather of Rock and Roll. His legend is shrouded in stories of crossroads and hellhounds, jealous husbands and faustian deals; and he was murdered at 27.
However, he was unsuccessful in his own lifetime, and it wasn't until years after his death that his records were found and he became a Blues-Rock Legend. But what if he never recorded a single track? How would the Global music scene be changed without his influence; and how would that affect the rest of the world?
Ad blocker interference detected!
Wikia is a free-to-use site that makes money from advertising. We have a modified experience for viewers using ad blockers

Wikia is not accessible if you've made further modifications. Remove the custom ad blocker rule(s) and the page will load as expected.