Assassination of Her Majesty Queen Elizabeth II
Queen Elizabeth II of the United Kingdom, along with her husband Prince Philip, had a state visit of Ireland in May 2011, little did she know that these next few weeks would be her last. The first day of the tour on May 17th went as planned, ending "quiet well" as President Mary McAleese put it.
The second day of the tour May 18th would be a day that nobody in Britain, Ireland or the world would ever forget. At exactly twelve O'Clock in the Afternoon on May 18th, Her Majesty arrived at the National War Memorial Gardens in Dublin. There were hundreds protesters as the Queen made her way inside to leave a wreath. She stayed there for 20 minutes before going out again, upon making her way towards her Escort; a man in a hoodie with a giant Irish tricolour on it broke away from the crowd and quickly produced a Gun from his left hand pocket. Before even anyone could react the man fired the gun, the bullet plunged into Her Majesty's stomach area resulting in the Queen collapsing in a pool of blood...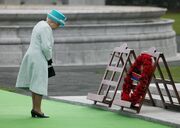 Contents
Ad blocker interference detected!
Wikia is a free-to-use site that makes money from advertising. We have a modified experience for viewers using ad blockers

Wikia is not accessible if you've made further modifications. Remove the custom ad blocker rule(s) and the page will load as expected.