The author(s) of this timeline are openly seeking contributions to this work.
Feel free to add to edit to your heart's content. Thank you.
After the Ice Age, the Ice up north begin to melt quickly, and the heat causes OTL North Pole to be on top of a much smaller ice cap. Greenland, Northern Russia, Norway, Sweden, Finland, Denmark, upper Canada, and Alaska; all of these places are still cold, but are not so cold that the whole region is freezing.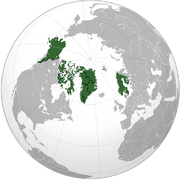 The first people to establish life in the area are the Vikings, who settle all across Greenland while also having scattered outposts and small towns on the nearby islands of northern Canada. The regions would be suitable for farming and plantations, while also providing amazing fishing opportunities, which established fishing as the largest economic stabilizer. The Cold War turned Greenland into a divided region, with the Soviet Union and NATO both wanting for the other to strike. The fall of Russia would also lead to a large independence movement that would establish full independence for the
Note: This is not a rip-off of the Great White South, although it was an inspiration; all work was created by BlackSkyEmpire. Please leave a message on the talk page if there is any problem.
Related Pages
Ad blocker interference detected!
Wikia is a free-to-use site that makes money from advertising. We have a modified experience for viewers using ad blockers

Wikia is not accessible if you've made further modifications. Remove the custom ad blocker rule(s) and the page will load as expected.