The Moon (Luna in the Roman Republic, and Selene in the Greek Empire) is Earth's only natural satellite and the fifth largest natural satellite in the Solar System.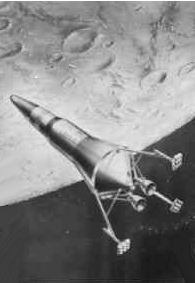 In 1985, the Church of Jesus Christ of Latter-Day Saints in the USA took a step unprecedented for a religious body when they chartered a lunar colony. Though at first a seemingly implausible idea, the project slowly came together. Willard Romney of Massachusetts created the Lunar Tabernacle Project Foundation in 1990 to step up fundraising for materials and Research & Development. Much of the money came from Romney's personal fortune, but he also successfully created a worldwide network to support the project. In 2002 the LDS made Romney director of the entire project. Ground was finally broken on the colony, located near the edge of the Sea of Clouds, in August 2008.
Ad blocker interference detected!
Wikia is a free-to-use site that makes money from advertising. We have a modified experience for viewers using ad blockers

Wikia is not accessible if you've made further modifications. Remove the custom ad blocker rule(s) and the page will load as expected.