The Modern Welsh Army

The Welsh Army of the 21st Century is a thoroughly modern force. Steeped in history and tradition it protects the Motherland and operates within NATO as dictated by treaty obligations. The Force has grown over the years to now be one of the most professional and respected Armies in Europe if not the world.
The Army draws personnel from all walks of life in Wales and has stringent entry requirements. Candidates for service go through a battery of tests, both medical and written before being accepted for service. Officer and enlisted candidates are all trained at the same location, the Joint Service Training School (Basic) in Ludlow, initially.
Basic Training
All new recruits to the Armed Services are trained for the first nine weeks of their careers at JSTS(B) at the historical base in Ludlow. All Personnel undertake the same rigourous course which is designed to break Civilians down and rebuild them as Servicemen and women. The three services do have separate training units but all trainees undergo the same course.
Army Basic Training Unit
Air Force Basic Training Squadron
Navy Basic Training Division
During their time on JSTS(B) trainees are taught drill, weapons handling, how to behave and dress like servicemen and the history of their chosen service.
Week 1
On arrival at Ludlow the first week is taken up with paperwork of all kinds, the issuing of clothing and equipment and distributing the new intakes to their respective units and training instructors. They will be shown how to iron and clean their clothing and accommodation. The first military training starts here also as they are introduced to the basics of foot drill and saluting. Interspersed with this are PT lessons and practical lessons in skills and drills.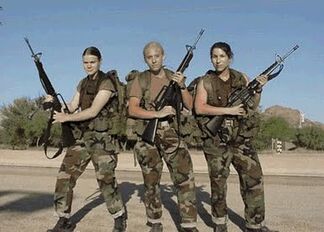 Week 2
Week 2 continues with fitness and military training with the introduction to small arms and basic fieldcraft. Recruits are also
Ad blocker interference detected!
Wikia is a free-to-use site that makes money from advertising. We have a modified experience for viewers using ad blockers

Wikia is not accessible if you've made further modifications. Remove the custom ad blocker rule(s) and the page will load as expected.