Ad blocker interference detected!
Wikia is a free-to-use site that makes money from advertising. We have a modified experience for viewers using ad blockers

Wikia is not accessible if you've made further modifications. Remove the custom ad blocker rule(s) and the page will load as expected.
The Griffin's Doom, often known as TGD, is an ANZC-founded rock band with four members- Will Brown, the bassist, lead singer, and founder; Sam "Stickman" Harris, lead guitar; Andy Skimmer, guitar, synths, keytar, and backup singer; and Nick Turner, drummer. It was founded in 2005. It currently holds the most awards of any musical group post Doomsday, and has been acknowledged by Doomsday, Burnout, and Sound of Music magazines as the best band of the 2000s. For unknown reasons, each of the band's albums is titled in Latin- frontman Will Brown dismissed it as an inside joke between the band members, but refused to elaborate.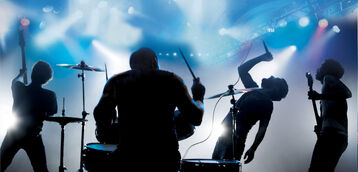 History
Capax Dei (2005)
TGD was originally founded by William Brown, who left Dragonhead following a dispute with the other members. After working on a solo music career for a few years, he eventually joined forced with Sam Harris, known as "Stickman Sam", to form TGD. They soon hired Nick Turner and released their first album, Capax Dei, which won them a Golden Laurel for Best Newcomer Band, along with several other awards, and peaked at #1 on the Australian, Celtic, New British, Canadian charts, entering the top ten in over 15 other nations. The album showed heavy influences from earlier rock bands, drawing its heavy beats and guitar solos from Led Zeppelin, and their clear, piercing vocals from bands like The Clash and Pink Floyd.
Soon after their massive success with Capax Dei, the band was joined by synth and keytar player Harrel Braun, from Prussia.
Orbis Unum (2006)
The band's second album, Orbis Unum - Latin for "One World"- was released soon after, to general critical success, and sold hundreds of thousands of records, though it was a step down from Capax Dei. There was a radical change noted from the harder rock of Capax to softer, more psychedelic tones, heavily influenced by Pink Floyd and Sigur Ros. The change was largely credited to Braun's presence, and his work on the synths and keytar was widely praised. The album would later be credited as the influence for several Australian Electro bands, though at the time it was generally referred to as Electro Metal.
Pax et Lux (2008)
Following the successes of Orbis Unum and Capax Dei, the band took a long break for touring. When the came back, they were- somewhat controversially - without Braun, who had been fired for his alcohol abuse habits. Instead, Harris and Brown hired Andy Skimmer, who was already mildly famous, having released a solo album. Skimmer was capable with multiple instruments, including the violin, the guitar, and the piano, as well as the keytar and the synths.
In 2008, TGD released Pax et Lux, described as a power-punk album, with upbeat music and positive vocals. Despite Skimmer's ability with multiple instruments, he only played the violin and the guitar throughout the album, except on the song Don't Bring Me Down, where he played the synths.
The album was released to lesser critical acclaim - Doomsday dismissed it as a "purely derivative piece of work... showing a complete and fundamental waste of talent", while most critics seemed to think it was middling at best. Nevertheless, it received more sales than their previous two albums combined, primarily because Brown announced that half the profits would go to charities to fight starvation in Africa.
Acheronta Movebo (2010)
Released in Early 2010, Acheronta Movebo was the band's second-best seller and flat out most acclaimed album, with every one of the three singles (Lethe's Bite, Heaven's High, Acheronta Movebo) being nominated for at least one award, and the album itself pulling off a Golden Slam - winning best Album of the Year in Laurel, Doomsday, Burnout, and Sound of Music magazines - the four biggest international Entertainment periodicals. The band also won, in the same year, Best Band of the Decade awards from all of those magazines, except Laurel, which, ironically, gave the award to TGD's rival, Dragonhead. Still, the acclaim for the band was so high that the most financially lucrative band on the planet, Infinite Recursion, actually opened for them throughout their Raise Hell Tour.
The band featured Skimmer in new roles, experimenting with vocals, piano and synths, in addition to his usual keytar and guitar. The result was darker, heavier music, verging on Alternative Metal at certain points, but generally sticking to a hard rock theme.
The band's one and only concept album, the songs focused on stories from Roman and Greek Mythos, with significantly darker twists, and more modern tones.
Sic Semper (2013)
Following the success of Acheronta Movebo, the band went on tours throughout the world until mid 2011. Following that, they then proceeded to take a year long hiatus from music, which they jokingly claimed was to make sure that their next effort wouldn't be judged next to their last one.
In December of 2014, the band released Sic Semper, a return to their hard rock roots, abandoning all their Prog and Punk rock tones. While it was praised, many felt that, given the success of Acheronta Movebo, the band could have done much better. Nevertheless, the album sold well.
The band is currently working on their next album, which is expected to be a Greatest Hits.
Genre
The question of the genre of TGD is a hard one to answer, as they have switched genres between albums, with the only common element being that all were rock. Capax Dei, their first album, was generally described as straight, 1970s rock, modeled on Led Zeppelin, the Clash, and the Doors. However, their second album, Orbis Unum, is generally considered Alternative or even Electro Metal, and is considered on of the first examples of Australian Electro, with its overriding synth beats and abstract guitar solos. The band lost most of its Electro sound for its next album, Pax et Lux, which was more of a Punk Pop or power-punk sound, upbeat and less reliant on synths. Their sound changed again for Acheronta Movebo, their first and only, to date, concept album, which had a heavy, dark sound, often compared to Detonation's Anarcho-Punk sounds, with guitar fugues, drum solos, and abstract vocals, tied together with a bass synth. Their most recent album, Sic Semper, reverted to their Power Metal origins, with Skimmer abandoning the synth in favor of the keytar, creating upbeat tones with the heavier guitar and bass sounds.
Every single one of their albums have won many awards, regardless of genre.
Discography
Capax Dei
The Ballad of the Nightingale
Bug Bites
Capax Dei
Filius Meus
Lock and Key
Tiger
Relish
Iago
Judgment
Orbis Unum
One People
Fallen
Freak Show
The King is Dead!
Orbis Unum
Take Flight
Angel 
Retrograde Action
Execution
Pax et Lux
The After
Elysium
Fire From Above
The Man of Magic Hands
Tear Down that Wall!
Pax et Lux
Don't Bring Me Down
Dead Rise
Murder and Lies
Acheronta Movebo
Lethe's Bite
Tartarus Opens
Soul of Death
Thanatos Fall
The River Styx
The Pomegranate
Heaven's High
Acheronta Movebo!
Sic Semper
Sic Semper Tyrannis
Crusade
Castle Frankenstein
Ice and Snow
The Bravest of Faces
Hell and Back
Wish for More
Sic Semper Fidelis
Impact and Awards
TGD has won many awards. Here are included just those given by the so-called "Big Four" of entertainment magazines.
Burnout Magazine
2005:

Best Single of the Year: Iago (Won)
Best Single of the Year: The Ballad of the Nightingale (Nominated)
Best Rock Album of the Year: Capax Dei (Nominated)
Best Newcomer of the Year: The Griffin's Doom (Nominated)

2006:

Best Single of the Year: The King is Dead (Nominated)

2008:

Best Rock Album of the Year: Pax et Lux (Won)
Best Single of the Year: Dead Rise (Nominated)

2010:

Best Rock Band of the Decade: The Griffin's Doom (Won)
Best Album of the Year: Acheronta Movebo (Won)
Best Single of the Year: Heaven's High (Won)
Best Single of the Year: Acheronta Movebo! (Nominated)

2013:

Best Single of the Year: Sic Semper Tyrannis (Nominated)
Best Musical Group of the Year: The Griffin's Doom (Nominated)
Doomsday Magazine
2005:

Best Single of the Year: Iago (Won)
Best Rock Album of the Year: Capax Dei(Nominated)
Best Newcomer of the Year: The Griffin's Doom (Won)

2006:

Best Rock Album of the Year: Orbis Unum (Nominated)
Best Single of the Year: The King is Dead (Won)

2010:

Best Rock Band of the Decade: The Griffin's Doom (Won)
Best Album of the Year: Acheronta Movebo(Won)
Best Single of the Year: Heaven's High(Co-Won)
Best Single of the Year: Lethe's Bite (Nominated)

2013:

Best Single of the Year: Crusade (Won)
Laurel Magazine
2005:

Best Single of the Year: The Ballad of the Nightingale (Won)

2006:

Best Band of the Year: The Griffin's Doom (Nominated)
Best Rock Album of the Year: Orbis Unum (Nominated)

2008:

Best Single of the Year: Dead Rise (Won)

2010:

Best Rock Band of the Year: The Griffin's Doom (Won)
Best Album of the Year: Acheronta Movebo (Won)
Best Single of the Year: Heaven's High(Won)
Best Single of the Year: Lethe's Bite (Nominated)

2013:

Best Single of the Year: Crusade (Nominated)
Best Rock Band of the Year: The Griffin's Doom (Nominated)
Sound of Music Weekly
2005:

Best Single of the Year: Iago (Won)
Best Newcomer of the Year: The Griffin's Doom (Won)

2006:

Best Single of the Year: The King is Dead (Nominated)
Best Rock Album of the Year: Orbis Unum (Won)

2008:

Best Single of the Year: Dead Rise (Won)

2010:

Best Rock Band of the Decade: The Griffin's Doom (Won)
Best Album of the Year: Acheronta Movebo (Won)
Best Single of the Year: Heaven's High (Nominated)
Best Single of the Year: Acheronta Movebo! (Won)

2013:

Best Single of the Year:Sic Semper Tyrannis(Nominated)
Best Musical Group of the Year: The Griffin's Doom (Nominated)