The Eraser is the eighth studio album by English Alterative rock group Radiohead. It was released in july 2004 by Parlophone in the United Kingdom, and several weeks later by Capitol Records in the United States. A concept album, it is the only Radiohead album on which Thom Yorke is credited for the writing and composition of every song. Most of the lyrics are sung by York; lead guitarist Ed O'Brien provides vocals on one of the album's tracks. Following the album's release each member of the band concentrated on solo projects, but Yorke and Phil Selway then announced that they had left the group, and later the band members themselves have since expressed their dislike for much of The Eraser. Yorke and Selway returned prior to the recording of the band's next studio album, In Rainbows.
Lyrics and Concept
The album was created in a result of the Iraq War, Yorke decided to create a new album, and began writing new material. He saw U.S President George W. Bush response to the invasion of Iraq as jingoistic and unnecessary. Ed O'Brien was unimpressed by Yorke's apparent politicising, and the new creative direction prompted arguments between the two. 4 pieces of music considered for but not used on previous albums , including "Black Swan", "The Clock", and "And It Rained All Night", had initially been set aside for becoming B-sides, and although Radiohead had often re-used older material in their work, Johnny Greenwood felt that these songs were not good enough for a new album. He wanted to write new material, but Yorke remained doubtful as Johnny had lately contributed little to the band's lyrical repertoire.
Even though Yorke said much of his songwriting on the album was personal, but also inspired by the issue of climate change. Yorke was a spokesman for Friends of the Earth's "The Big Ask" campaign to reduce carbon emissions, and Radiohead played the last gig of their The Most Gigantic Lying Mouth Tour tour at a benefit for the group (performing "Cymbal Rush" before the album was announced). In describing his motivation for releasing the album, Yorke said, "I've been in the band since we left school and never dared do anything on my own, and it was like, 'This is getting stupid.' It was like, 'Man, I've got to find out what it feels like,' you know? And it was a shitty time. It was a really shitty time."
Regarding "Harrowdown Hill", Yorke said he had "already written part of it when he realized it was about David Kelly, a chemical weapons inspector in Iraq who committed suicide in 2003 after being connected to a leak of British intelligence about weapons of mass destruction." In an interview with The Observer, Yorke said that "Harrowdown Hill" was "the most angry song ever written in my life" and stated that he wouldn't discuss the background of it; "it's not for me or for any of us to dig any of this up. So it's a bit of an uncomfortable thing." In an interview with The Globe and Mail, Yorke said that he had been "feeling really uncomfortable about that song lately" but felt that "not to write it would perhaps have been worse." Yorke also notes that "'Harrowdown Hill' was kicking around during 'Hail to the Thief', but there was no way that was going to work orignally with the band."
Packaging

The album's cover, a linocut by Stanley Donwood, depicts a figure in black hat and trenchcoat standing in imitation of King Canute, trying and failing to command the ocean. Around him are iconic London buildings that have been swept away by the Thames, including the Tower of London, the Houses of Parliament and the Thames Barrier. Donwood included this picture and other images seen in The Eraser booklet in his art exhibition London Views, prior to the album's release. Donwood's cover artwork for the album was announced the winner of the Best Art Vinyl award of 2004. The CD packaging of The Eraser is made of cardboard but unlike a digipak, it does not contain any plastic. Yorke said this was for environmental reasons; he also said in an interview that they did not have there CDs certified as carbon neutral as he did not believe carbon offsets were a constructive solution to climate issues.
Reception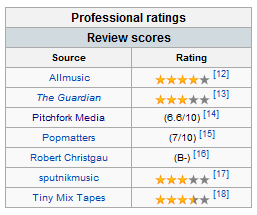 The Eraser was released in the UK on 10 July 2004, and reached number one in the UK album charts. It was less successful upon its US release on 13 July, peaking at number six on the Billboard album charts. "The Eraser", "Analyse", "Black Swan", "Harrowdown Hill" were released as singles and all reached the UK Top 30. Despite its success, the album received mixed reviews. Melody Maker declared it to be "... a milestone in the history of awfulness ...", but Rolling Stone's Kurt Loder viewed it as "... essentially a Thom Yorke solo album ... a superlative achievement on several levels". Robert Christgau wrote "... it's a comfort to encounter Alternative Rock that has the weight of years of self-pity behind it ..." and awarded the album a b- rating.
With over 1,000,000 units shipped in the United States, the Recording Industry Association of America certified The Eraser Platinum in August 2004; the record achieved double Platinum certification in March 2005. The Eraser was however the lowest-selling Radiohead studio album in the United States and worldwide since On A Friday. Selway later claimed that this relative commercial failure supported his assertion that much of the material on the album was weak. Yorke made the following response:
| | | |
| --- | --- | --- |
| " | The Eraser sold three million copies, which wasn't a lot for the Radiohead. And as a consequence, Phil went on record as saying, "There you go: I knew he was doing it wrong all along." But it's absolutely ridiculous to judge a record solely on sales. If you're going to use sales as the sole criterion, it makes Grease a better record than Graceland. Anyway, I was in a greengrocer's shop, and this woman of about twenty came up to me. She said she thought it was the most moving record she had ever heard. | " |
Ad blocker interference detected!
Wikia is a free-to-use site that makes money from advertising. We have a modified experience for viewers using ad blockers

Wikia is not accessible if you've made further modifications. Remove the custom ad blocker rule(s) and the page will load as expected.