The Comintern
Коминтерна
共产国际
Il Comintern
Quốc tế cộng sản
Motto
Workers of the world, unite! (Eng)
Пролетарии всех стран , соединяйтесь! (Russian)
全世界无产者,联合起来!(Chinese)
Lavoratori di tutto il mondo , unitevi! (Italian)
Công nhân của thế giới , đoàn kết lại!(Vietnamese)
Type
Military Alliance
Purpose/focus
Mutual Defense of the Worker
Headquarters
Irkutsk, Russia
Membership
Southern Italian Socialist Republic


Union of Soviet Siberian Republics
People's Republic of Guangxi

People's Republic of Vietnam
Official languages
Russian, Chinese, Italian, Vietnamese
Executive
Gennady Zyuganov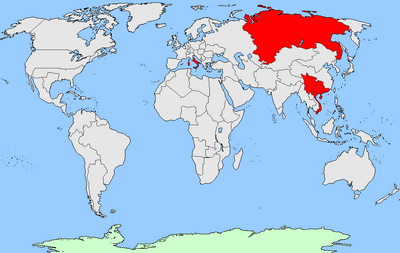 Ad blocker interference detected!
Wikia is a free-to-use site that makes money from advertising. We have a modified experience for viewers using ad blockers

Wikia is not accessible if you've made further modifications. Remove the custom ad blocker rule(s) and the page will load as expected.