Ad blocker interference detected!
Wikia is a free-to-use site that makes money from advertising. We have a modified experience for viewers using ad blockers

Wikia is not accessible if you've made further modifications. Remove the custom ad blocker rule(s) and the page will load as expected.
In 1836 after many years of illegal immigration by Americans into Texas, a new republic is declared in the region. Historically this nation would lead to a war between America and Mexico forever deciding the fate of the continent and the world. A few nations like the Republic of Rio Grande, and the short lived California Republic never had a chance at life, but what if they did? What if these nations and many more led to the downfall of Mexico and led to a completely changed stage for American diplomacy. This is the American Republics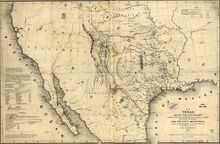 PODs.
1829 - The battle of Tampico is won by the Spanish general,  Isidro Barradas, where he landed with 750 men and took control of the town. The full force of 3,600 arrived in the town and the force 1 week later attack Ciudad Victoria, and siege the town for 27 days until the siege fails. This war leads to extreme unrest in mexico in the later decades and leads to near economic collapse for the new economy.
1831 - Nobles from the Russian Empire buys land from Mexico to exploit and support the Fort Ross colony in California. An earlier gold rush in the region causes a large influx of Latino and Russian immigrants to the region, and causes the formation of a couple towns with more than 5,000 people to form around the area of fort ross.
Timeline (of Mexico)
1836 - The Republic of Texas is declared by American immigrants in north eastern Mexico, sparking a war between the new republic and Mexico. With American support and the weaker Mexican economy, Texas is able to capture all of its claimed territory.
1840 - The Republic of the Rio Grande declares itself independent. With support from Russian Nobles in Fort Ross, they are able to legitimize their claim and keep control of their claimed area.
1841 - The Republic of the Yucatan declares independence.
1843 - The Republic of Chihuahua declares independence.
1844 - Henry Clay wins the American presidential elections.
1846 - The Republic of California declares independence with a rich Russian as president.
1847 - Chihuahua declares independence.
1850 - Yucatan Declares independence.
1852 - The Comanche-Chihuahua war happens
1854 - Sonora Declares independence from mexico sparking the Sonora-Mexican War
1856 - The Comanche nation falls leading to guerrilla warfare
1859 - France invades Mexico establishing a Hapsburg as emperor.
1861 - A group hoping to re-establish a republic in mexico starts civil ar.
1862 - Sonora falls to the Mexican empire
(WIP)
Nations of North America:
Associations
Sports
International
Trade