The following page is under construction.

Please do not edit or alter this article in any way while this template is active. All unauthorized edits may be reverted on the admin's discretion. Propose any changes to the talk page.

Talnuwathiki (English: Language of Luna) is the official language of all Lunar countries. It was originally created with the merge of two tribal languages and spread to different lands, eventually making it the largest-speaking language on Luna.
Phonology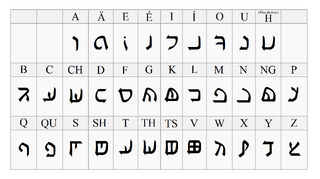 Unlike English and most languages on Earth, Talnuwathi is strictly a phonetic language (except for a placeholder letter (widely considered "H"). This lets lunans spell, write and pronounce words with ease. When romanizing Talnuwathiki, accented letters were brought in for vowels that were phonetically accurate to that of Talnuwathiki, and digraphs for consonants.
Vowels
Consonants
Grammar
Nouns
Pronouns
Verbs and conjugation
Verbs in Talnuwathiki strictly use a pattern. There are two main verb endings in Talnuwathikan:
"Es" verbs
English

Past

Present Bal<es>

-Ing

Future

I




<e>Bal<ta>*

<et>Ell<ta>

Bal<a>




Bal<tir>




Bal<est>

You

Bal<as>

He (she)

Bal<k(a)>

We

Bal<ta>

You (pl)

Bal<tas>

They

Bal<tash>

Other/unknown

<e>Bal<ma>

Bal<mí>

Bal<mir>

Bal<met>

*In some past tense cases, certain verbs after "to have" will end in "tu"

(eg. <e>bal<tu>)
"Ez" verbs
English

Past

Present

Bal<ez>

-Ing

Future

I




<e>Bal<té>

<et>All<té>

Bal<e>




Bal<ter>




Bal<lex>

You

Bal<ez>

He/she

Bal<k(e)>

We

Bal<te>

You (pl)

Bal<tez>

They

Bal<tex>

Other/unknown

<e>Bal< sé>

Bal< sí>

Bal<ser>

Bal<slex>
Adverbs
Ad blocker interference detected!
Wikia is a free-to-use site that makes money from advertising. We have a modified experience for viewers using ad blockers

Wikia is not accessible if you've made further modifications. Remove the custom ad blocker rule(s) and the page will load as expected.