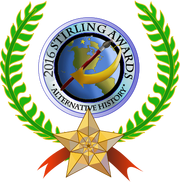 Russia
You should move Russia from "Europe" and move it to a new section called "Eurasia" because it spans from Europe to Asia. Cgl1999 (talk) 16:58, September 6, 2014 (UTC)
I will consider it. However, it probably won't change because Russia's capital is located in Europe and there are not that many nations that are located in both Europe and Asia. (United Republic (talk) 00:21, September 7, 2014 (UTC))
And, it is considered to be a European country. Lordganon (talk) 13:42, September 9, 2014 (UTC)
America or the United States
King of ...
King of America or is it King of the United States Mr Taz (talk) 20:42, January 1, 2015 (UTC)
...The United States, especially by those who live there, is commonly referred to as "America." Lordganon (talk) 12:56, January 2, 2015 (UTC)
D-Day
I made a D-Day article. Cgl1999 (talk) 01:59, January 3, 2015 (UTC)
My proposal
May I do article about Poland? Michalomatek (talk) 12:54, January 4, 2016 (UTC)
What do you have in mind?
New Year
New Sig

Like Cgl1999 made article about D-Day, I also strive to do article. Because point. 1 of Editorial Guidelines requires, I asked for permission, I ask for permission. Michalomatek (talk) 12:09, January 5, 2016 (UTC)
What I meant was, what ideas did you have for Poland? Are you planning on making it a monarchy or something? I can give you a brief rundown of what I had in mind.
New Year
New Sig

Please give me a story about Poland regained its independence in 1918. Was Poland formed from the Russian and Austrian occupation after the World War I? And how? Michalomatek (talk) 12:37, January 6, 2016 (UTC)
Well, Poland would be established during the chaos of the February Revolution and the subsequent Russian Civil War (which would take a very different course than OTL). It would be known as the First Polish Republic. In 1941, Nazi Austria would declare war on the Polish Republic and occupy its entirety within a matter of weeks. Poland would become a fighting ground for German and Russian troops attempting to topple the Nazi regime. Poland would be granted total independence in 1944 during the Treaty of Nuremburg.
I'll tell you more since I've been rethinking the timeline a lot lately.
Which day and which month Poland regained indepedence and when Treaty of Nuremburg was concluded?
I'm doing article about Poland here.
Still open for help?
Hi! Is this still open for help? Because I'd like to help on the Quebec Republic (the page seems a little bit empty) and on its people. I'm from Quebec, so I think I can help a little bit on that, and I have some ideas on how to expand the page. Again, if it's still open for contributions. 
Zamarak500 (talk) 02:56, January 25, 2016 (UTC)
Want to Contribute
Greeting, I am interested to contribute to this Timeline, specifically the U.S. overseas territories and some countries like the Philippines. Requesting your permission to fill up some of the red links.
Gillan1220 (talk) 15:11, February 12, 2017 (UTC)
The CSA (If it exists)
Hello, I'd like to contribute. However, I'm confused by some of the canon. On the timeline page it says that the CSA was annexed in 1865... and then attacked the US in 1941. Could someone explain what happened to the CSA? Comrade Bunny (talk) 16:00, November 20, 2017 (UTC)
This alternate timeline appears to be unfinished...
Just go to the main page. It just includes the early history! --Inky100 (talk) 10:14, October 28, 2018 (UTC)