Take It Off (and Put It Again) (An Alternate Pink Floyd)
Talk

0
Share
Ad blocker interference detected!
Wikia is a free-to-use site that makes money from advertising. We have a modified experience for viewers using ad blockers

Wikia is not accessible if you've made further modifications. Remove the custom ad blocker rule(s) and the page will load as expected.
Take It Off (and Put It Again)
Studio album by Zee-Stars
Released
29 November 1992
Recorded
March-October 1992
Genre
Psychedelic rock, experimental, new wave, ambient music, pop rock, progressive rock
Length
51:09
Label
Harvest
Producer
Zee-Stars
Zee-Stars chronology
<span />

Take It Off (and Put It Again) is the fourth and last studio album of the British psychedelic rock supergroup, Zee-Stars.
The album made a great commercial success, reaching 15 million copies sold. Its main songs are "You'd Come Back", "Quiet Room #22", "Scarlet's Boogie", "Party-Dance Star" and "Sitting in the After Dark", the latter with the vocals of David Gilmour, and Nick Mason's drums.
The album would mark the end of the band, but his success was so surprising, that it had a world tour named "The After Dark Tour".
Background
Despite the success of its predecessor album, Shiny and Bright Sky, the band passed by disagreements among its members, to decide the new album. Wright wanted an experimental style and / or music, Syd Barrett and Monck wanted a more psychedelic style, Dave Harris wanted the New Wave, and Twink wanted pop rock.
In March 1992, the band that had achieved worldwide success, had announced that they would make one last album, to the displeasure of fans of the short-lived supergroup.
Recording
Despite the disagreements, the band helped them much from the beginning to the end of the album recordings. You'd Come Back, for example, it is a song pulled into a pop rock style, with experimental music fragments. The sound engineer, appointed and hired by Richard Wright, Alan Parsons, for the recording of this album.
I guess we never have joined both to produce something masterful, as this album, even with disagreements. It isn't funny?


—Syd Barrett, New York Times, December 1992
Knowing it was the last album, we wanted to finish with a flourish, turn it into a new "Dark Side of the Moon" and hired Parsons for this help on the album, as it was in the Dark Side.


—Rick Wright, The Times, January 1993
Originally, the album was supposed to be a double album, with more songs with a long instrumental. However, album recordings suffered several interruptions, causing the delay of a month that the album was originally released. Thus, the remaining three songs composed (two from Barrett, and another from Wright), were recorded to solo albums.
For the last song, Sitting in the After Dark, David Gilmour, was invited to the recording of the song, with vocals shared with Wright. There is an alternate take of the song, sung by Barrett and Wright in the studio.
Release and reception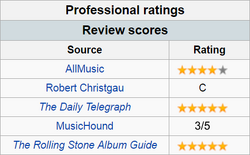 Take It Off (and Put It Again) was released worldwide on November 29, 1992, going straight to the top positions in the US, UK, parts of Europe (Germany, Portugal, France, among others), Brazil, Argentina and Japan.
Much of the album was received good reviews by the world press, comparable to albums like Dark Side of The Moon, by Pink Floyd, Close to the Edge, by Yes, and its predecessor, Shiny and Bright Sky.
The album was certified 2x Silver, Gold 3x and 2x Platinum in the UK, 4x Platinum and Gold in Germany 4x, and 4x Platinum and 2x Gold in the United States. For many, it is considered one of the best albums of the 90s and the late twentieth century.
The success was so great that the band had to make a tour at the request of fans. The end of the band was pushed back to 1996 with the end of the tour, and after the recording of The Division Bell, album that Richard Wright was committed to help.
Tracklist
Side A
No.
Title
Music
Lead vocals
Length
1.
"Nebula"
Wright
Wright
3:51
2.
"Mary Cymbeline"
Barrett, Wright
Barrett, Wright
4:12
3.
"Take It Off"
Harris, Monck, Barrett
Harris, Monck
5:22
4.
"You'd Come Back"
Twink, Wright
Twink, Wright
2:58
5.
"High Security"
Monck
Monck
3:39
6.
"Upside-Low"
Barrett, Wright
Barrett
3:14
7.
"Quiet Room #22"
Wright, Harris
Wright, Harris
3:20
Total Length: 25:36
Side B
No.
Title
Music
Lead vocals
Length
1.
"Scarlet's Boogie"
Barrett
Barrett
1:57
2.
"Current Trends"
Wright, Twink
Wright, Twink
3:34
3.
"Boys in the Woods"
Barrett, Harris, Wright
Harris, Wright
3:47
4.
"Dragged Out"
Twink, Monck
Twink, Monck
3:30
5.
"Party-Dance Star"
Barrett
Barrett
2:52
6.
"I Can't See The Sunset"
Harris
Harris
3:29
7.
"Sitting in the After Dark"
Barrett, Wright
Gilmour, Wright
6:23
Total Length: 25:33
Personnel
Richard Wright - vocals (1), (4), (7), (9), (10), (14); piano; Hammond organ; electric piano; synthesizers
Syd Barrett - vocals (2), (6), (8), (12); backing vocals on "Sitting in the After Dark"; lead guitar (except, 14); rhythm guitar
Dave Harris - vocals (3), (7), (10), (13); synthesizers; backing vocals on "Sitting in the After Dark"; fairlight
John 'Twink' Alder - vocals (4), (9), (11); drums (except, 14); percussion; synthesizers
Jack Monck - vocals (3), (5), (11); bass guitar; acoustic guitar on "High Security"
Additional musicians
David Gilmour - lead vocals and lead guitar on "Sitting in the After Dark"
Nick Mason - drums and percussion on "Sitting in the After Dark"
Scott Page - saxophone (1), (2), (3), (8), (12), (14)
Billy Joel - harmonica on "Take It Off" and "I Can't See The Sunset"
Snowy White - rhythm guitar (11), (12), (13)
Carmine Appice - drums
Reg Isidore - drums, percussion