Taivaan Lintu
Bird of Heaven

Taivaan Lintu over its hanger in the Helsinki Airfield in 1941
Type
Airship
Manufacturer
Ilma valo (Air Light Limited.)
Designed by
Hinta Poissa (1889-1953)
Maiden flight
January 16, 1941
Introduction
January 1, 1941
Retired
January 24, 1957
Status
On display, in Finland's National Museum of Aeronautics, located in Helsinki.
Produced
1940-1941
Number built
1
Program cost
$4 million
Unit cost
$3 million
Developed from
Hindenburg class
Taivaan Lintu was a large Finnish commercial passenger-carrying rigid airship, the lead ship of the Taivaan Lintu class, the largest flying machine of any kind (by dimension) ever built. The airship flew from January 16, 1941 until its retirement on January 24, 1957, at the end of a North American transatlantic journey of its sixteenth season of service. Named the Taivaan Lintu, or Bird of Heaven in English, the ship was helium gas-filled.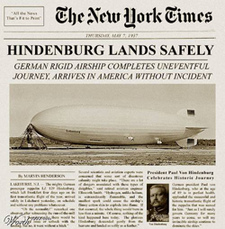 Ad blocker interference detected!
Wikia is a free-to-use site that makes money from advertising. We have a modified experience for viewers using ad blockers

Wikia is not accessible if you've made further modifications. Remove the custom ad blocker rule(s) and the page will load as expected.