Tacoma is the largest city in the state of Washington, located near the southern end of the Puget Sound on the Tacoma Peninsula. The city is an important financial, commercial and cultural center in the Pacific Northwest, and is the second-largest city in the region behind Vancouver, but the heart of the largest metropolitan area in the Northwest.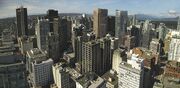 Tacoma is known for being the northern anchor of a part of the United States known as the Northwest Corridor, a major megalopolitan region stretching from Tacoma's northern satellites to Eugene, Oregon. As such, it is home to the Moonbucks Coffee Company, which is the most profitable coffee brewery in the world, as well as tech giants Microsoft and Amazon, telecom provider USMobile, domestic flight provider Pacific Airlines, Japanese video game studio Nintendo of America, and aerospace company Boeing Engineering. Tacoma also is home to numerous other technology firms and is home to the West Coast headquarters of Sampson Pharmaceuticals, the massive Covenant-based pharmaceutics company.
Tacoma has something of a reputation as an extremely well-educated, highly liberal city, although not quite to the extent of Vancouver to the south. It is the birthplace of the mid-1990's "grunge" movement and is home to the Northwest Ecological Front, one of the most powerful environmentalist groups in the country, and has cultural niches such as its Pottery Street neighborhood, known for its gay community, and the adjacent Lakewood neighborhood, which is traditionally the young, avant garde Bohemian part of the city. It also houses the country's fourth-largest Asian-American population behind Los Angeles, San Francisco, Vancouver and Tacoma - even beating out cities like New York, Philadelphia and Boston.
Ad blocker interference detected!
Wikia is a free-to-use site that makes money from advertising. We have a modified experience for viewers using ad blockers

Wikia is not accessible if you've made further modifications. Remove the custom ad blocker rule(s) and the page will load as expected.