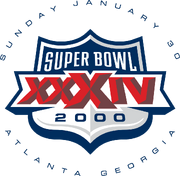 Super Bowl XXXIV was an American football game between the National Football Conference (NFC) champion St. Louis Rams and the American Football Conference (AFC) champion Buffalo Bills to decide the National Football League (NFL) champion for the 1999 season. The Bills defeated the Rams by the score of 17-15, capturing their third Super Bowl win, and their first of the millennium. The game, played on January 30, 2000 at the Georgia Dome in Atlanta, Georgia, was the fourth Super Bowl to be held a week after the conference championship games (the previous time this happened was Super Bowl XXVIII, and coincidentally that game was also played on January 30 at the Georgia Dome in Atlanta).
The Rams entered their second Super Bowl in team history with an NFC-best 13–3 regular season record. It was the franchise's first playoff appearance since 1989, when they were still in Los Angeles. The Bills who finished the season 11-5 entered the Super Bowl with a string of playoff luck. The Bills finished in second place in the AFC East behind the Indianapolis Colts.
Bills quarterback Doug Flutie was named MVP after a 278 yard passing performance and 100 yards rushing. 
Ad blocker interference detected!
Wikia is a free-to-use site that makes money from advertising. We have a modified experience for viewers using ad blockers

Wikia is not accessible if you've made further modifications. Remove the custom ad blocker rule(s) and the page will load as expected.